The Unofficial Guide to State Casseroles: 50 Casserole Recipes Across America
Eat your way across the United States without leaving your own home!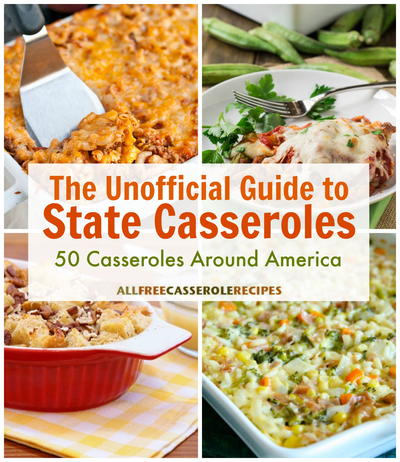 Because the United States is such a massive country, it can be easy to lose sight of what makes each state unique.

Every state has an official state food or a dish that it's famous for, which is why we have created this collection, The Unofficial Guide to State Casseroles. These easy casserole recipes will show you new ways to enjoy the official state foods of each state. Learn what each state brings to the table by following this comprehensive collection of casserole recipes.

If you're interested in learning what makes each state unique, use our guide as a fun way to cook your way across the USA! We've included every state from A to Z as we take you on a culinary tour of America. So, choose a state and start cooking!
Table of Contents
Casseroles from Alabama to Georgia
These casserole recipes feature many different types of ingredients from salmon to peaches. Sample these recipes from Alabama to Georgia and enjoy a culinary tour of America.
Casseroles from Hawaii to Maryland
From deep dish pizza, to Amish food, to shrimp and grits, and even pineapple casserole, these casserole recipes will give you a taste of what each state is famous for!
Casseroles from Massachusetts to New Jersey
These states are known for everything from growing blueberries, hosting "All You Can Eat" buffets, to housing the headquarters of Campbell's. Tour the country with the help of these easy casserole recipes.
Casseroles from New Mexico to South Carolina
Here you'll find recipes inspired by official state foods such as beans, sweet potatoes, pears, and even okra. These easy recipes for casseroles highlight the specialties of each state.
Casseroles from South Dakota to Wyoming
Maple syrup, Virginia ham, funeral potatoes, and even cheese curds all hail from these states. These states may be at the end of the alphabet, but they don't have to signify the end of your culinary tour across America!
Your Recently Viewed Recipes