Quick Dinner Ideas: 20 Easy Dump and Go Meals
Check out our favorite quick meals, easy dessert ideas, tips from experts, time-saving cooking ideas, and more!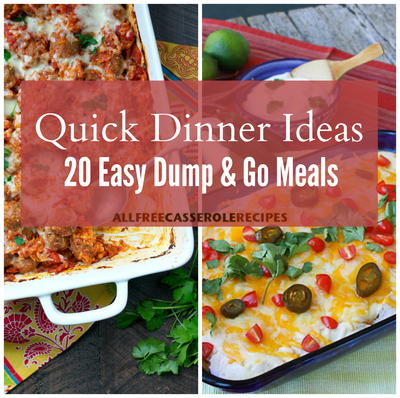 We live in a world where everybody is busy and always on-the-go. If you're having one of those hectic days when you're not sure if you'll have time to eat, these Quick Dinner Ideas: 20 Easy Dump and Go Meals should help you out.

All of these quick dinner ideas are incredibly easy to make. Once you complete a little bit of prep work, all you have to do is put the ingredients in the slow cooker or in the oven, and then you're done! This is a very effortless, stress-free process, and it gives you more time to accomplish everything on your to-do list.

Not only are these recipes simple, but they're also quite delicious and filling. A wide variety of delicious recipes are featured below, ranging from a zesty Mexican dish to easy chicken casserole recipes. No matter what you're in the mood for, these dishes should satisfy every kind of craving you could possibly have.

All of these dump and go meals make excellent weeknight dinner options that your whole family will enjoy. If you don't have a lot of time to cook, or if you really don't want to spend much time in the kitchen, these recipes are perfect for you.

Just don't forget to leave room for dessert – we've featured some delectable dump cake recipes in this collection of dump and go recipes, and they are to die for! There's no better way to relax after a long day than enjoying one of these sweet, fruity treats. They're the ultimate comfort food. Many different kinds of dump cakes are listed below, so you could probably make a different cake for each season!

BONUS! Check out the quick dinner idea and video for Dump and Done Chicken Casserole from our friends at RecipeLion! It's quick to put together and only needs to bake for 30 minutes.
Table of Contents
What's your go-to recipe for a quick dinner?
Your Recently Viewed Recipes