12 Authentic German Casserole Recipes
Sample traditional German fare without leaving the comfort of your own kitchen!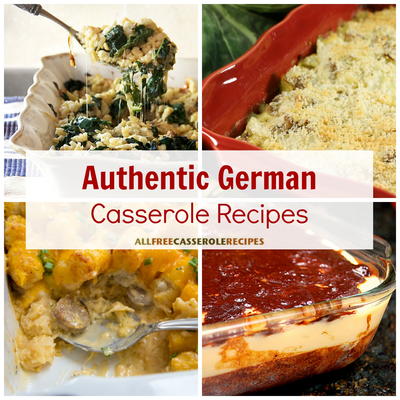 Whether you are of German descent or simply enjoy celebrating German culture, we guarantee that you will enjoy this collection of 12 Authentic German Casserole Recipes. These German-inspired recipes are all full of unique flavors that will make you think that you have taken a trip to the Bavarian countryside.

Our collection of German recipes includes a selection of cabbage casserole recipes, as well as more German food recipes that feature ingredients such as pretzels, bratwurst, and sauerkraut.

Making any of these recipes from Germany is bound to inspire you to travel to Deutschland, or at the very least you will be inspired to whip up some German dishes on a more regular basis.
Table of Contents
German Cabbage Casserole Recipes
Everyone loves a comforting cabbage casserole. All of these German cabbage casserole recipes feature a hearty combination of cabbage and either ground beef or ham. Anyone who loves cabbage is sure to enjoy these German recipes. These cabbage casserole recipes are also great if you are on a budget since cabbage is such an affordable ingredient. These cabbage casseroles will allow you to have a taste of Europe without breaking the bank.
This recipe is different than many other cabbage casseroles because it's made without tomato sauce. Instead, this ground beef and cabbage recipe uses sour cream and Cheddar cheese.
German Style Ham and Cabbage Casserole
Sauerkraut, egg noodles, and slices of Swiss cheese make up this unique casserole. You can even add ham or vegetarian brats to make this into a complete meal! 
German Spaetzle Recipes
Spaetzle are a type of traditional dumpling that is eaten in Germany, Austria, and Switzerland. They are a soft type of egg noodle that pairs well with cheese, but can also be eaten on their own or mixed into other dishes. The three recipes below feature ingredients like cheese, greens, and even caramelized onions. For a taste of authentic German cuisine, sample any of these special recipes.
While spaetzle is not traditionally thought of as a healthy German dish, this recipe is a little more guilt-free. Kale, Swiss chard, and carmelized onions are a wonderful complement to the homemade dumplings.
German Cheese Spaetzle Casserole
If you're looking to try traditional German fare, turn to this recipe! Cheese and onions enhance the flavor of the spaetzle in this recipe. This is a great way to get a taste of Germany without leaving home.
Cheese Spaetzle Recipe (Kaesespaetzle)
This recipe is essentially like the German version of mac and cheese. Carmelized onions and Jarlsberg or Emmantaler cheese make for a supremely decadent casserole. This would make a good side dish, but is filling enough to be the main course! 
More Easy German Casserole Recipes
Here you will find plenty more easy German recipes. Whether you are looking for a casserole that features flavorful sauerkraut, or a dish made with pretzels, we hope you find a recipe you enjoy. These easy casserole recipes are sure to help you get in touch with your German heritage.
Pork Chop and Sauerkraut Casserole
When it comes to flavorful meals, it doens't get much better than this one! Sauerkraut, apples, and potatoes complement the savory pork chops. If you use an ovensafe skillet, this is a simple one-pan meal!
Tater Tot and Bratwurst Casserole
For a recipe that's unique and satisfying, look no further than this recipe! This recipe is made with sauerkraut, sliced brats, tater tots, and a creamy cheese sauce. It's a great way to try something new and warm up on a chilly day!
BONUS German Dessert Recipe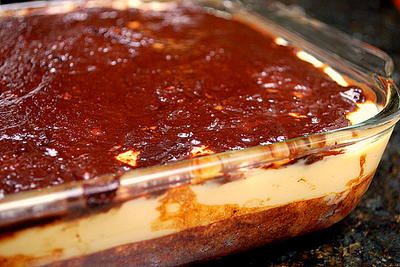 German Danube Waves Cake Recipe - This authentic German dessert features layers of chocolate and vanilla cake, vanilla pudding, cherries, and a chocolate glaze. This cake is made to resemble the waves of the Danube River!
Your Recently Viewed Recipes