Cabbage Recipes We Love: 15 Cabbage Casserole Recipes
These cabbage casserole recipes are affordable, delicious, and the perfect solution for dinner.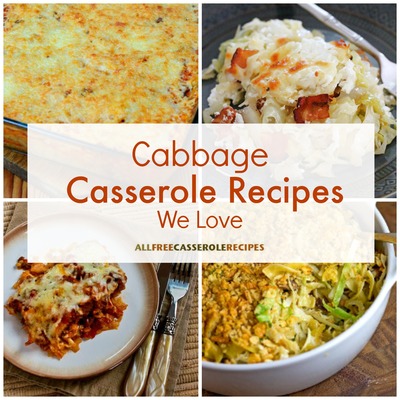 Whether you're looking for a holiday side dish casserole recipe or just need dinner recipes, cabbage casserole recipes are nutritious and budget-friendly. For ideas, refer to our collection, Cabbage Recipes We Love: 15 Cabbage Casserole Recipes.

This collection includes meatless cabbage recipes, stuffed cabbage roll recipes, cheesy cabbage recipes and more. Easy cabbage recipes are handy for any occasion.

Whether you are looking to save money on groceries or you just want to take advantage of this healthy and versatile vegetable, cook your way through these easy casserole recipes. This collection of recipes is great to keep on hand whenever you're in need of some dinnertime inspiration.

Plus, read on to learn about the different types of cabbage, how to store it, and much more!
Table of Contents
Cabbage Roll Casserole Recipes
Making homemade cabbage rolls can be time-consuming, so these shortcut casserole recipes are perfect for a quick fix. These recipes taste just like the classic recipe, but without the work of rolling up cabbage leaves.
Side Dish Cabbage Casserole Recipes
Cabbage makes for a wonderful side dish to any meal. If you like creamy, cheesy vegetable dishes, then you will love the recipes below. In fact, these recipes are so satisfying that they could even be great as meatless meals!
White wine enhances the cabbage's flavor and makes this dish extra special. It's blanched before it is mixed with sauteed onions, thyme, and heavy cream.
Can you believe you can make a great dinner with only five ingredients?! That's how many ingredients this cabbage casserole recipe requires. Just saute the cabbage, rice, and onion and put some breadcrumbs on top.
Cajun Cabbage Au Gratin Casserole
Microwave, saute, and bake. That's all you have to do for this easy dinner. When it's done, you'll have a lightly browned crust, made from bread crumbs and Parmesan cheese. Try this if you want an easy dinner with a kick of flavor.
Cabbage Casseroles without Tomato Sauce
So many cabbage caseroles are made with tomatoes, but if you'd like to try a less acidic alternative, these casseroles fit the bill. You'll find everything from ground beef to noodles and even Ritz crackers. See which recipe you like best!
Topped with Ritz crackers crumbs and mixed with tender noodles, cabbage is perfectly at home in this casserole. Everyone will love the combination of cabbage, noodles, and crunchy topping.
A star among easy cabbage recipes, this cabbage roll casserole lacks traditional cabbage roll casserole tomato sauce, but doesn't lack in flavor. Ground beef, onion, garlic and breadcrumbs give this tasty dish plenty of oomph.
Lazy Unstuffed Cabbage Casserole Recipe [Full Recipe]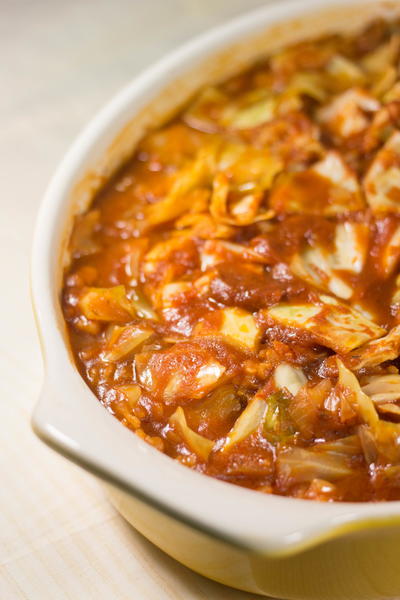 Serves: 12
Cooking Vessel Size: 9 x 13-inch baking dish

Ingredients
2 pounds lean ground beef
1 medium onion, chopped (about 1 cup)
1 teaspoon salt
1/2 teaspoon dry dill
1 1/2 cup instant whole grain brown rice
1 head cabbage, about 2.5 pounds, cored and chopped into 1-inch pieces
1 (29-ounce) can tomato sauce
1 (14-ounce) can low-sodium beef broth

1. Preheat the oven to 350 degrees F. Set a colander or wire sieve over a large bowl and set aside.
2. In a 12-inch skillet over medium heat, crumble and brown half of the ground beef for about 10 minutes, stirring frequently. It is okay if it is not cooked through at this point. Tip the meat into the colander and allow to drain while browning the second half of the meat. While the meat browns, add the onion for the final 5 minutes, along with the salt and dry dill. Add the ground beef and onion mixture to the colander with the rest of the ground beef to drain.
3. Spread the meat mixture over the bottom of a 9 x 13-inch casserole dish. Sprinkle with the rice, then top with the cabbage, packing it down evenly.
4. Combine the tomato sauce and broth. Pour the tomato mixture over the casserole contents. Set the casserole on a baking sheet to catch any spills in the oven. Cover the casserole dish tightly with foil and bake for 30 minutes. After 30 minutes, gently stir and press the cabbage into the broth. Recover and bake another 45 minutes until the cabbage has softened.
5. To get a printable version of this recipe, click here!
Types of Cabbage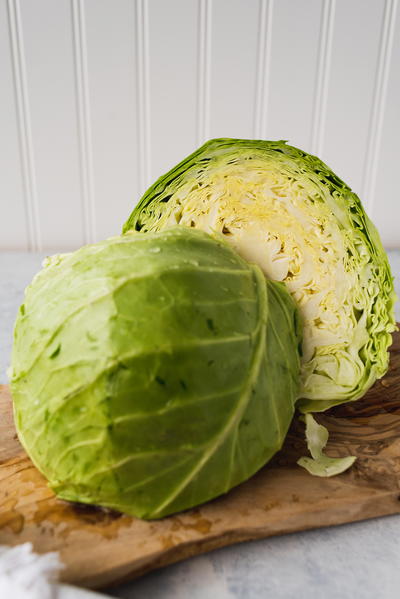 While there are many additional varieties of cabbage, these are the types that are the easiest to find in America.

Green Cabbage (shown) – This is the most common type of cabbage. It has smooth, wide leaves that get lighter in color the closer they get to the core. When raw, green cabbage is slightly rubbery.
Red Cabbage – As the name suggests, red cabbage has purple, almost red leaves. It is very similar to green cabbage, but has a tougher texture.
Savoy Cabbage – This type of cabbage has crinkled leaves that turn yellow as they near the base. Their flavor is milder than green or red cabbage.

There is also a wide variety of Chinese cabbages, including Bok choy and Napa cabbage, but they are botanically different from American cabbages. Often, they are labeled as types of cabbage because of the way they are marketed and sold.
How to Choose Cabbage & How to Store It
How to Choose Cabbage – A good head of cabbage will be firm and feel heavier than its size. The leaves should be tightly packed and dense. Don't worry too much about the appearance of the outer leaves – they can be discarded anyway.

How to Store Cabbage
Keeping the outer leaves on the head helps retain moisture and will help it last longer.
Wait to wash a head of cabbage until just before you use it. This will extend the life of the cabbage.
Stored properly, a head of cabbage can last anywhere from 3 weeks to 2 months!
Green and Red cabbage has a longer shelf life than Savoy cabbage, which should be used within a few days.
Your Recently Viewed Recipes