Easy Chicken Parmesan Casserole
Try this easier and healthier version of a classic Italian chicken casserole recipe!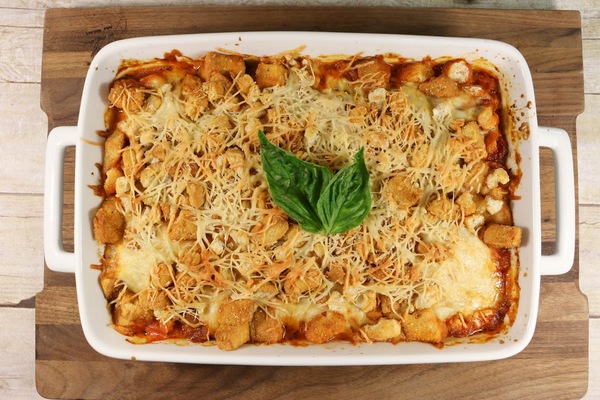 Easy Chicken Parmesan Casserole
Easy Chicken Parmesan Casserole is a terrific chicken casserole recipe that's packed with all the flavors of the traditional Italian dish. This version is easier and healthier for you. How, you ask? By turning it into a casserole, using fresh ingredients, and baking the chicken instead of frying it. Chicken Parmesan is a classic Italian meal, so if you want to give your recipe a makeover, try this option.

Many people have their own versions of Chicken Parmesan, so it's nice to try a new one every once in a while. Make this easy casserole the next time you're in the mood for Chicken Parmesan.

This recipe for Easy Chicken Parmesan Casserole is great because it only requires one dish. It is so much simpler to make this casserole instead of traditional chicken Parmesan, but everyone will still be impressed when you pull this gorgeous casserole out of the oven. Easy Chicken Parmesan Casserole tastes great on its own, but you could serve this easy chicken casserole recipe with a side of pasta and additional sauce.
Serves6
Ingredients
3 large large boneless, skinless chicken breasts, cut into 3-inch pieces

1

/

4

cup extra virgin olive oil
5 cloves garlic, minced
3 tablespoons shredded fresh basil
1 teaspoon Italian seasoning
salt and pepper to taste
24 ounces pasta sauce, jarred or homemade
1 (8-ounce) bag of shredded mozzarella cheese
1 (5-ounce) bag garlic croutons, crushed
1 cup shredded Parmesan cheese
Instructions
Preheat the oven to 350 degrees F.

Spray a 9 x 13-inch baking dish with cooking spray. Spread 1/4 cup of sauce on the bottom of the dish.

In a large bowl or gallon freezer bag, combine the chicken pieces, olive oil, Italian seasoning, garlic, basil, salt, and pepper. Turn to coat.

Spread about 1/4 cup of the pasta sauce on the bottom of the baking dish. Place the chicken in the dish in an even layer. Top the chicken with the remaining pasta sauce, making sure that all of the chicken is covered. Bake for 30 minutes.

After 30 minutes, remove the chicken from the oven. Top the casserole with mozzarella cheese, crushed croutons, and parmesan cheese. Bake for another 20 minutes or until the top is golden brown.
Why You Should Make This Casserole Recipe Tonight
Italian dishes are always a hit, so the next time you feel like ordering pizza, make this dish instead! By the time a pizza would arrive, you could be enjoying this wonderful Chicken Parmesan casserole. Plus, you will have the satisfaction of making something the whole family will love.

For a complete meal, you can serve this casserole with a side of pasta, garlic bread, or both! With this easy casserole recipe, you can enjoy the rich and cheesy flavors of Italian food without paying a pizza delivery fee. As an added bonus, this recipe is much healthier than a restaurant pizza. So, if you want to treat yourself without the guilt and money, look no further than this Chicken Parmesan casserole.

Try this reader-favorite and test-kitchen approved recipe tonight! It is sure to be a hit with everyone who tries it. If you make this Chicken Parmesan casserole, let us know what you thought in the comments!
Your Recently Viewed Recipes