Recipes with Bisquick: 8 Casserole Recipes with Bisquick
Dinner can be on the table in a hurry with these shortcut casserole recipes.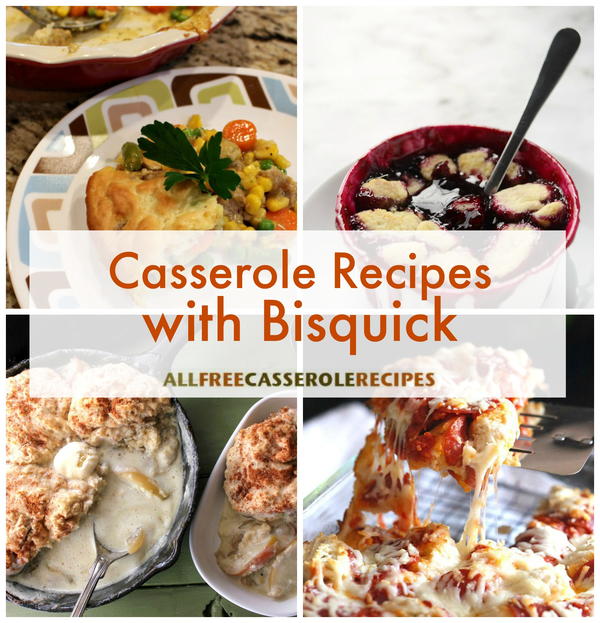 Homemade recipes are always a good idea, but a meal made completely from scratch can be time consuming. If you still want a meal that tastes homemade, Bisquick is a great shortcut.

We have assembled this collection of Recipes with Bisquick: 8 Casserole Recipes with Bisquick to make your life a little easier. Using these Bisquick recipes will have you in and out of the kitchen in no time at all!

If your least favorite part of cooking is measuring out ingredients, this collection of Bisquick recipes will be a life saver. If you are new to cooking, this recipe collection will be especially helpful. Bisquick is an amazingly versatile ingredient that can be used in dinner recipes as well as dessert recipes. As a matter of fact, you can even make a pizza casserole with Bisquick! Take your pick of our collection of Bisquick recipes, and make a recipe for dinner or dessert in a flash.

If you're in the mood for a hearty, stick-to-your-ribs kind of dinner, look no further than our section on Ground Beef Casserole Recipes with Bisquick. There you will find cowboy recipes, taco casserole recipes, and even a pot pie recipe with ground beef. If you have ground beef and Bisquick handy, you need to try one of these delicious dinner ideas. If you're feeling sweet, try a dessert recipe with Bisquick. Whether you enjoy peach desserts or apple desserts, Bisquick will help you enjoy an amazing dessert in no time at all!
Recipes with Bisquick: 8 Casserole Recipes with Bisquick
Ground Beef Casserole Recipes with Bisquick
Ground beef casseroles always hit the spot. When preparing a ground beef casserole, you need to brown the beef before assembling the casserole. Because of that extra step, it's nice to have a shortcut like Bisquick to help save time. If you like classic dinner casseroles, try the Cattle Drive Casserole or Bisquick John Wayne Casserole. For a more adventurous meal, try the Easy Cheesy Taco Casserole or the Meatball Pot Pie Casserole. If you like tacos and chicken pot pie, you will adore these exciting new versions of dinnertime classics.
Dessert Casserole Recipes with Bisquick
Bisquick isn't just for dinner! If you love homemade desserts, then you need to try these cobbler recipes. Whip up a simple version of peach cobbler with Biquick, spices, and peaches. No one would ever guess how easy it is to make Bisquick Peach Cobbler. For a deliciously unique apple dessert recipe, try Apple Cider Cobbler with Spiced Pumpkin Biscuits. Pumpkin pie spice and Bisquick make this dessert recipe uniquely tasty and simple. Impress your guests with this shockingly simple cobbler recipe. Bisquick Blackberry Cobbler is surely the best way to enjoy the wonderfully sweet berry.
BONUS Casserole Recipe with Bisquick
Just when you thought you knew the limit of Bisquick, this pizza casserole recipe showed up! If you have a craving for pizza, whip up this Bisquick Pizza Casserole with that magical pantry ingredient. If you keep a box of Bisquick handy, you can enjoy pizza anytime with this easy Bisquick recipe.
Your Recently Viewed Recipes