12 Top-Rated Chicken Casserole Recipes
12 Top-Rated Chicken Casserole Recipes
Free eCookbook
These chicken casseroles make for the ultimate comfort food any night of the week!
Chicken casserole recipes are essential when you're looking to make a wholesome meal in a jiffy. We're all busy, but we still want to eat well. Easy casserole recipes with chicken are the perfect solution. We've compiled some of our readers' favorite chicken bake recipes into this free eCookbook, 12 Top-Rated Chicken Casserole Recipes. It has some of the best chicken casserole recipes around, and they're sure to fit every taste and preference. Whether you're looking for a tasty chicken pasta casserole recipe, a Mexican-inspired chicken casserole recipe, or a more traditional chicken casserole, we've got a fabulous selection wrapped up in our free, printable eCookbook. You'll find classic chicken casseroles, Italian casserole recipes, and much more in 12 Top-Rated Chicken Casserole Recipes.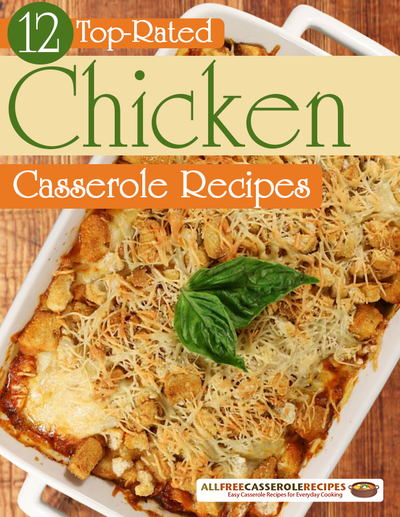 Download your free copy of 12 Top-Rated Chicken Casserole Recipes today!
12 Top-Rated Chicken Casserole Recipes
Table of Contents
Note from the Editors
Dear Casserole Cookers,

There is nothing more comforting or satisfying than a hearty helping of homemade chicken casserole. Nothing beats an easy chicken casserole recipe as a main dish. In this eCookbook, 12 Top-Rated Chicken Casserole Recipes, you will find all of our best chicken bake recipes. No matter which of these chicken casseroles you choose to make, we guarantee that you will have a smile on your face.

You may not think that there are many different ways to prepare chicken casserole, but we are here to prove you wrong. This comprehensive eCookbook includes chicken casserole recipes, Mexican and Tex-Mex chicken casseroles recipes, and Italian chicken casserole recipes. Our collection of chicken casseroles has something for everyone.

This eCookbook is full of recipes that you will want to make again and again. All of the recipes use versatile ingredients that you can easily keep on hand at all times. Best of all, this eCookbook includes a wide variety of recipes, so you will be able to make them all without getting bored.

For more of our best casserole recipes, be sure to visit AllFreeCasseroleRecipes.com. While you're there, subscribe to our free newsletter, The Casserole Connection, to get free recipes delivered to your inbox every week.

Happy Casserole Cooking!

Sincerely,
The Editors of AllFreeCasseroleRecipes.com
---



Download your free copy of 12 Top-Rated Chicken Casserole Recipes today!
---
What's Inside the eCookbook
Classic Chicken Casserole Recipes
Easy Cheesy Ritzy Chicken Casserole (pg. 6) - Nothing beats a cheesy chicken casserole, and this recipe is made from a tempting combination of chicken, Ritz crackers, and Cheddar cheese.

Poppy Seed Chicken (pg. 7) - Poppy seed chicken casseroles are ubiquitous in the South, and this recipe for Poppy Seed Chicken will help you bring those comforting flavors into your own kitchen.

Classic Chicken Tetrazzini (pg. 8, pictured) - This recipe for Classic Chicken Tetrazzini is sure to become one of your family's favorite weeknight meals. Sliced almonds top this casserole to give it great flavor and crunch.

French-Fried Onion Chicken and Rice Casserole (pg. 9, pictured) - If you are looking for one of the best comforting casseroles around, look no further than this chicken and rice baked. Cheese and French-fried onions help to take this easy casserole recipe over the top.

Mexican and Tex-Mex Chicken Casserole Recipes
Cowboy Chicken Casserole (pg. 11, pictured) - Everyone will love the zesty flavor of this Cowboy Chicken Casserole. Shredded chicken is combined with a creamy sauce, mild chilies, onions, bell pepper, and black beans to create the filling for this Mexican casserole recipe.

Tex Mex Chicken Lasagna (pg. 12) - This recipe offers a fun twist on traditional Italian lasagna. Make this recipe for Tex Mex Chicken Lasagna the next time you need to feed a crowd or are headed to a potluck.

Chicken Tostada Casserole (pg. 15, pictured) - Tortillas are layered with chicken, enchilada sauce, cheese, and plenty of other flavorful ingredients to make this Chicken Tostada Casserole.

Italian Chicken Casserole Recipes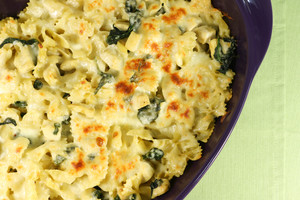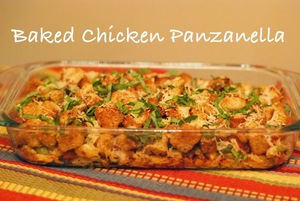 Mom's Baked Chicken and Spinach Pasta (pg. 16, pictured) - Combine pasta, fresh spinach, garlic, olive oil, white wine, and mozzarella cheese and you'll wind up with this awesome dinner. Mom's Baked Chcken and Spinach Pasta is a fantastic, wholesome meal your whole family will enjoy.

Easy Chicken Parmesan Casserole (pg. 18) - This recipe for Easy Chicken Parmesan Casserole requires almost no preparation. All you have to do is top chicken with store-bought tomato sauce, cheese, and crushed croutons. That alone will make this one of the best casserole recipes you will ever make.

Baked Italian Chicken Panzanella (pg. 19, pictured) - If you are looking for a hearty casserole recipe, try this Baked Italian Chicken Panzanella. Diced tomatoes are combined with chicken, croutons, Italian dressing, and cheese to make this tasty Italian chicken casserole.
---



Download your free copy of 12 Top-Rated Chicken Casserole Recipes today!
---
Need Help Downloading?
AllFreeCasseroleRecipes eCookbooks are free downloadable recipe collections organized around a theme, such as easy casserole recipes, vegetable side dishes, and many more. These eCookbooks are PDF documents that can be downloaded off of our website, saved to your computer, and/or printed out for easy reference while cooking. If you are having trouble downloading our free eCookbooks, visit our FAQ Page: How to Download our eCookbooks
Don't Miss our Other eCookbooks!
If you enjoyed this free eCookbook, you won't want to miss any of our other downloadable recipe collections. You can browse our entire library of free eCookbooks here.
Sign Up for Our Newsletter
With your free copy of our 12 Top-Rated Chicken Casserole Recipes eCookbook you can also subscribe to our newsletter The Casserole Connection to become part of the wonderful casserole community. In subscribing to the newsletter you will receive:
Weekly emails with our best casserole recipes, tips, collection pages and more.
Chances to win cooking books and products from our weekly giveaways and contests.
New FREE recipes made available to you throughout the year.
Access to our free recipe library full of hundreds more free recipes.
The opportunity to share ideas and help others in the cooking community.
This sneak peek of what this new eCookbook has in store for you hopefully has convinced you to download it free today. If any or all of these recipes appeal to you, click on one of the eCookbook icons anywhere on this page to download your free copy of 12 Top-Rated Chicken Casserole Recipes. You won't regret downloading this free eCookbook and printing its delicious recipes! Once you get your copy, you can either keep it on your computer or eReader, or print it out and keep it in your kitchen. No matter how you use your eCookbook, once you've tried even one of the recipes, you'll be glad you downloaded it.
---



Download your free copy of 12 Top-Rated Chicken Casserole Recipes today!
---
You can also download this book for FREE on iTunes!
Download 12 Top-Rated Chicken Casserole Recipes (for iPad readers).
Your Recently Viewed Recipes