Your Picnic Menu: 16 Summer Casserole Recipes for a Picnic
With our collection of summer casserole recipes, you can enjoy an outdoor picnic while soaking up the summer sun.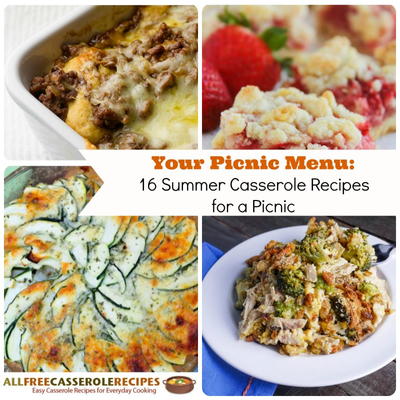 On a warm summer day, there's no better way to enjoy the weather than with an outdoor picnic. If casseroles don't pop into your head when you think of summer, this recipe collection will change your mind!

Your Picnic Menu: 16 Summer Casserole Recipes for a Picnic will give you lots of options to plan your summer picnic menu. Casseroles are no longer meant for a dreary winter day these picnic recipes scream summer! So, dust off your casserole dish and whip up one of these wonderfully easy casserole recipes.

Cooking in the summer can be a challenge, especially when you want to stay as far as possible away from a hot oven. You still need your oven to make these casserole recipes, but once these dishes are made, take them to a nearby park for a fun outdoor picnic! For a meal that is sure to please, choose a recipe from the Main Dish, Side Dish, and Dessert category and you're all set. Leave the meal planning to us, so you can enjoy a special day filled with picnic food, family, and friends!
Table of Contents
Main Dish Summer Casserole Recipes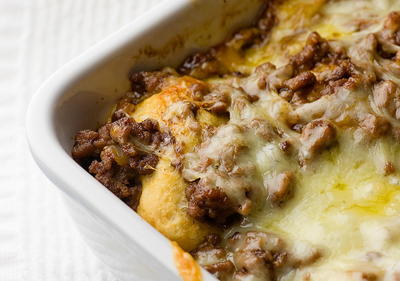 Here you will find main dish recipes that taste even more delicious outside. Whether you like ground beef, chicken, or tuna, you are sure to love one of these casserole recipes. For traditional ballpark and cookout food, be sure to try Barbecue Casserole or Budget Chili Dog Casserole. For revamped classic recipes, try Farfalle and Tuna Casserole or Not Your Mama's Chicken and Broccoli Casserole. If you enjoy trying out new recipes, try Baked Cream Cheese Spaghetti.
For even more recipes to celebrate summer, be sure to check out
Side Dish Summer Casserole Recipes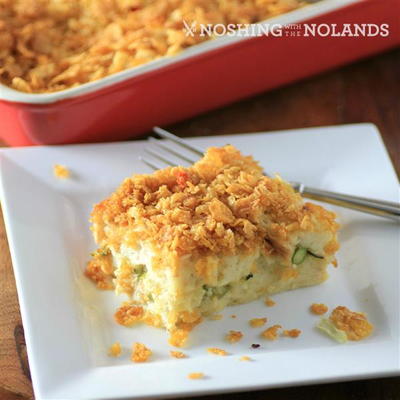 The summer harvest brings in many wonderful opprtunities for fresh vegetables. Make the most of the veggies that summer has to offer by making one of these side dish vegetable recipes. Tomatoes, zucchini, potaotes, all make these side dish recipes shine. Crispy Cherry Tomato Cobbler and Spaghetti, Tomato and 3 Cheese Pasta Pie are perfect ways to enjoy summer tomatoes. If you're a zucchini lover, try Zucchini Potato Cheese Gratin, Summer Veggie Wife-Saver Casserole, or Vegetable Pie with Zucchini Crust. For something completely different, try for Chipotle Macaroni and Cheese for a zesty take on a classic comfort food recipe.
Summer Dessert Casserole Recipes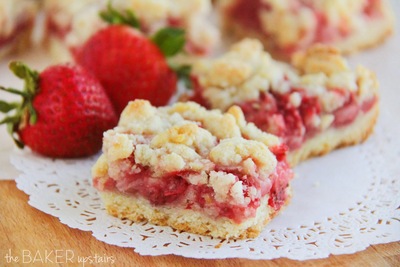 There's never a wrong time for dessert, so be sure to whip up one of these sweet treats. Whether you like brownies, strawberries, blueberries, you are sure to find something to love in this collection of desserts. If you're craving fruity desserts, look no further than Blackberry Lime Bars, Blueberry Cream Cheese Dump Cake, or Scrumptious Strawberry Crumb Bars. For dessert recipes that have uncommonly delicious ingredients, be sure to try Ballpark Magic Bars or Drunken S'Mores Bars.
Your Recently Viewed Recipes