28 Simple and Easy Recipes Using 5 Ingredients or Less
Whip up a delicious homemade meal in no time with the help of these easy casseroles.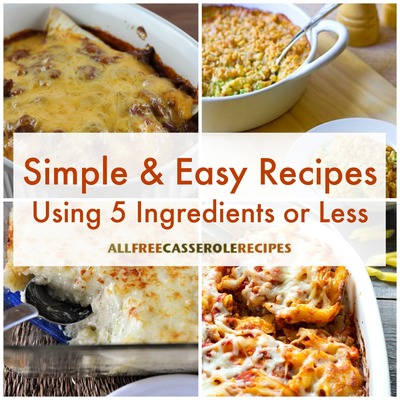 Many recipes promise that they're easy to make, but when you actually start making them, you find they're way more complicated than anticipated. A surefire way to tell if a recipe will be easy to make is to look at the ingredients list. If there are only five ingredients listed, it can't be too difficult. We've collected some of our best casserole recipes that use only 5 ingredients or less.

This collection of 28 Simple and Easy Recipes Using 5 Ingredients or Less is something you will want to keep close to your kitchen. When you're cleaning out the fridge and need easy eays to use up a few ingredients, give one of these easy recipes a try. For weeknight dinners without the fuss, these recipes deliver. The recipes range from breakfast to dinner to dessert—practically everything you could ever want. Some recipes require five ingredients while others require only three. Regardless of the number, they're essentially foolproof and extremely budget-friendly. What more could you ask for? So, without further ado, here are our fantastic recipes using 5 ingredients or less.
25 Simple and Easy Recipes Using 5 Ingredients or Less
Your Recently Viewed Recipes