How to Make White Sauce Without Lumps
Learn how to make the perfect white sauce (or bechamel sauce). Plus, check out the step-by-step video tutorial below!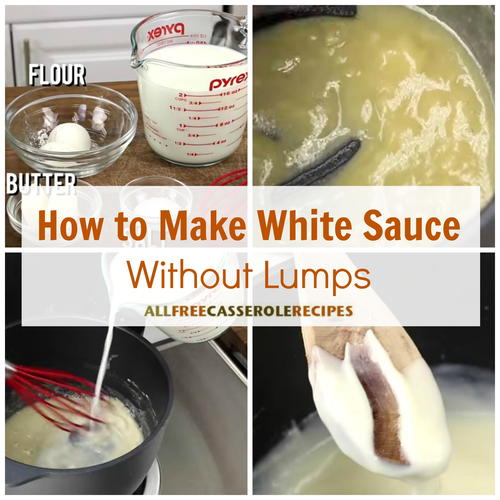 White sauce, also called béchamel sauce, is made from butter, flour, and milk. It is used as a standalone sauce, as a base for other sauces, and in classic casseroles like mac and cheese and lasagna.

However, the biggest potential problem with white sauce is ending up with lumps. Luckily we will show you how to make a white sauce or béchamel that is smooth and lump-free.

Making sauces from scratch can be intimidating at first, but with a few important tips you'll be able to effortlessly make homemade cream sauces.

White sauce is also a good way to add creaminess to a casserole without using canned soup. It is commonly used in mac and cheese sauces as well as some lasagna recipes. Also, if you are trying to eat fewer processed foods or you just want the satisfaction of making a meal completely from scratch, you should know how to make a white sauce.

White sauce is a simple recipe made from a roux (usually flour and butter) and a liquid (usually milk).
What is a Roux?
Roux is a French cooking term that refers to equal parts fat and flour that have been cooked together. It is used as a base to thicken sauces and is used in many different cuisines. It can be cooked to varying shades of brown. Deeper color = richer, bolder flavors. For white sauce it is cooked to a lightly-toasted golden color, but in Cajun cooking for example, it is cooked to a dark brown.

This is what a finished roux for a white sauce should look like.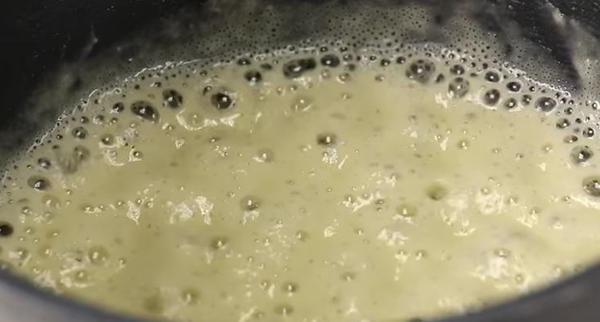 When milk is whisked into roux and then simmered, it becomes white sauce (or béchamel sauce).
Ingredients for White Sauce
The main ingredients of white sauce are fat, flour, and milk. The proportions can be altered to create a thicker or thinner sauce.

Fat + Flour (Roux) – The ratio between fat and flour should be roughly equal. The amount of flour and fat you use (or the amount of roux you make) will determine the thickness of your sauce.
Fat – Butter is most commonly used in white sauces, but any kind of fat can be used. Just keep in mind that whatever type of fat, oil, or butter you choose will flavor your sauce. Butter, canola oil, olive oil, and bacon grease are good examples to use.
Flour – All-purpose flour or cake flour are the best choices because they have the highest starch content.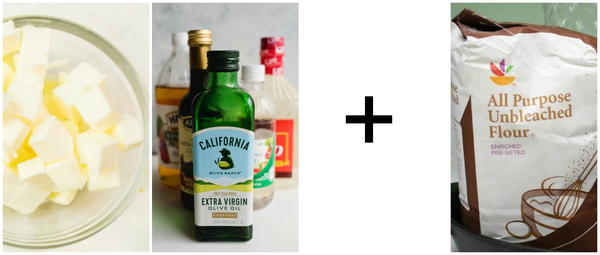 Milk – The amount of milk can easily be adapted as you're adding milk to the roux. And if the sauce turns out thicker than you wanted, just whisk in more milk.

Should the milk be hot or cold?

The cooking community is divided on the temperature of the milk. Either hot or cold milk can be used, but there are pros and cons to both methods.
Hot Milk: According to an article from The Kitchn, sauce thickens faster when hot milk is used. This also decreases the amount of whisking time. However, there is a slight risk that the sauce could curdle.
Cold Milk: Some chefs, such as Chef John of Food Wishes, say that cold milk is the only way to go. The issue with using cold milk is that it requires more whisking which can be messy, especially if your pan is shallow.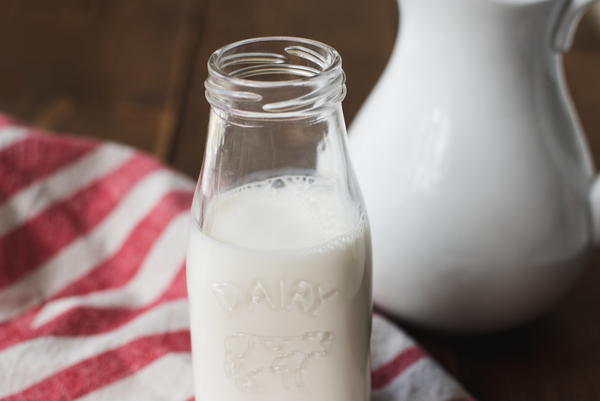 How to Make White Sauce without Lumps
Ingredients:

2 tablespoons butter
2 tablespoons flour
1 cup milk
Salt to taste
Melt butter over medium heat.
Add flour to the melted butter and stir until combined. Using a whisk, continue stirring for several minutes to cook the roux.
You'll know when the roux is cooked when large bubbles form and the scent changes from butter to popcorn.
Whisk in the milk and whisk until the sauce thickens. It is done when it coats the back of a spoon.
Stir in salt and pepper to taste or any other desired ingredients.
Tips for Preventing Lumps in White Sauce
Make sure to cook the roux for enough time. It generally takes at least 5 minutes for a light-colored roux to cook. A good rule of thumb: cook the roux until it smells like popcorn or baked pie crust. This is a sign that that raw flour flavor has cooked out. If you've cooked your roux properly, it is very difficult for it to turn out lumpy when you whisk in the milk! According to FoodNetwork.com, you'll know when a white sauce roux is done when it puffs slightly.
 
Add a little milk at a time. Adding all the milk at once won't ruin your white sauce, but you will likely have to whisk for a while to smooth out the lumps. Try adding milk little by little and whisking as you go. It will also be easier to make sure the roux is combining with the milk. (You won't need to dig to the bottom to check for lumps!)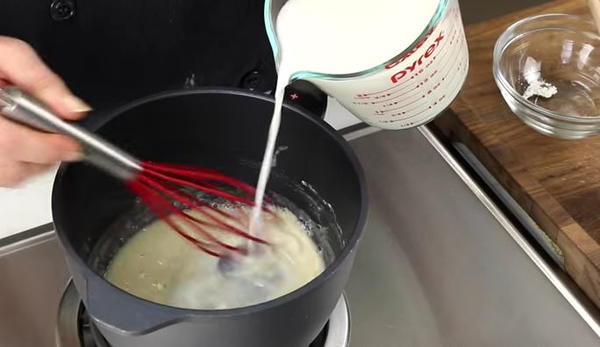 Fixing Sauce Problems
If the sauce turns out lumpy...
Use a strainer. If your white sauce still has lumps, pour it through a strainer to remove the big lumps. Then, pour the sauce back onto your pan and continue whisking.
Use a hand mixer. If you have a lot of lumps in your sauce, a hand mixer can help break up the lumps.
If the sauce is too thick...
Add in more milk and continue whisking until you reach the right consistency. If you've already added seasoning to the sauce, be sure to taste it again once you've added more milk.
If the sauce is too thin...
If the sauce is thinner than you want, let it keep cooking. The sauce will reduce as the liquid evaporates – leaving you with a thicker sauce.
Casserole Recipes with White Sauce
Now that you've learned how to make white sauce without lumps, it's time to practice using a complete recipe! These casserole recipes all use a homemade white sauce base which also means that they are made without canned soup.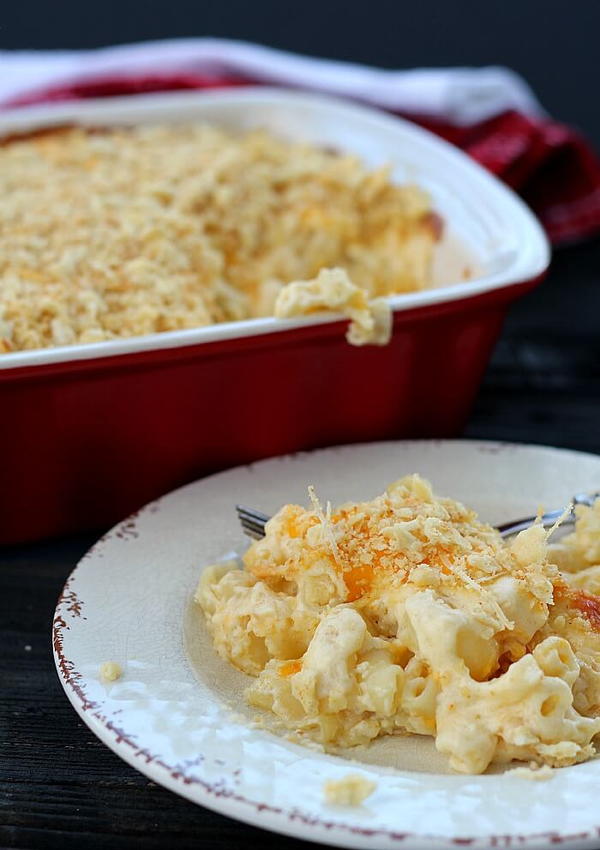 What problems do you have when making sauces from scratch? Let us know in the comments!
Your Recently Viewed Recipes