Types of Casserole Pans: Which One Should I Use?
Find out which casserole pans to use for your recipes, how to clean your pans, and more!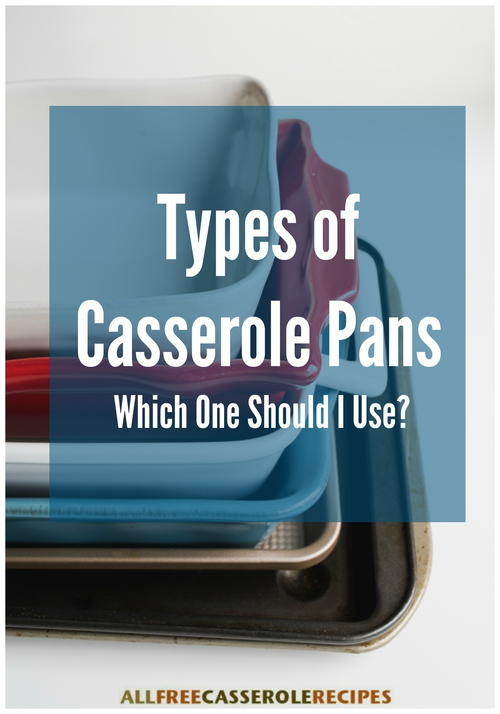 When you're trying out a new casserole recipe, the type of casserole pan you use is probably the last thing on your mind. However, the material of the pan can impact the flavor and baking results of your recipe. 

If you've ever wondered why ceramic casserole dishes are so popular or why lasagna shouldn't be baked in a metal pan, keep reading!

We've put together this guide to different types of casserole pans to make your cooking experience even easier.

Below you can learn about the different materials used for casserole pans (and why some are better than others for certain recipes), how to clean your pans, and even a free printable cheat sheet of casserole dish sizes and capacities! Unsure of what size pan to use when a recipe calls for a 2-quart baking dish? Our guide will help.

What is a casserole pan?

A casserole pan is characteristically a baking dish that is large, deep, and is used in the oven and as a serving dish. A casserole pan can be made out of glass, ceramic, cast iron. Since there isn't just one type of casserole pan, they can come in different sizes and shapes. The most common shapes of casserole pans are square, round, and oblong.
Casserole Pan Sizes
Before you decide which type of casserole pan to use, you'll also need to consider the capacity of your pan. Cooking in the correct sized pan will ensure that your casserole cooks correctly (and that food doesn't spill over!). Because some recipes refer to pan size in terms of dimension and some use capacity, we made a handy cheat sheet that pairs them together.

Download a free copy of the cheat sheet here!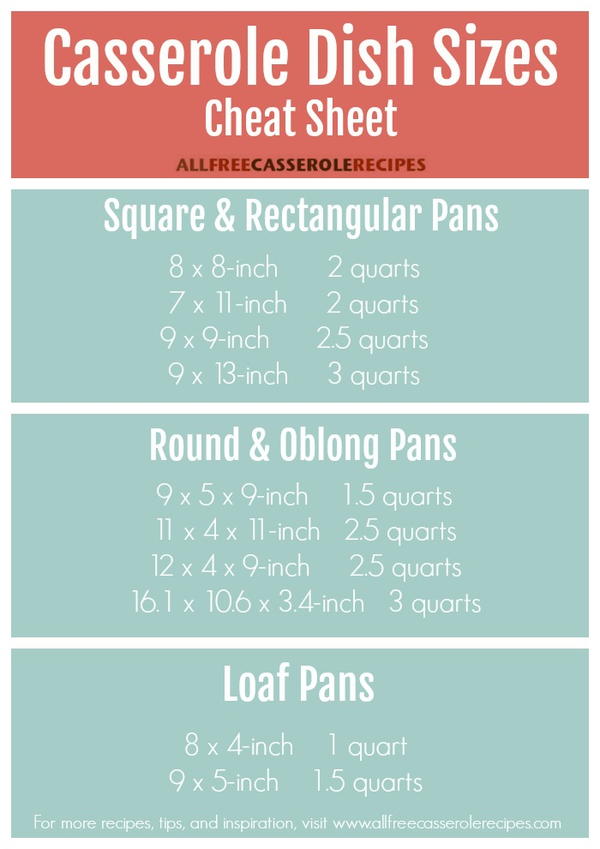 Types of Casserole Pans and When to Use Them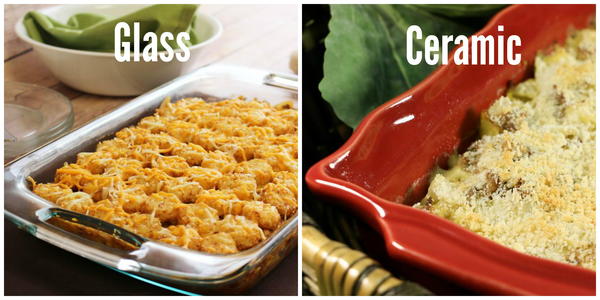 Ceramic & Glass Casserole Pans

Pros: Multipurpose pan, Conducts heat evenly, Visually attractive
Cons: Cannot withstand sudden changes in temperature, Takes a long time to heat up and cool down

Ceramic and glass are both varieties of ceramic cookware, the main difference being that ceramic pans are clay-based and glass pans are silica-based. So, for all intents and purposes, ceramic and glass casserole pans are interchangeable. It really comes down to their appearance.

Since clay-based ceramic pans are usually more attractive and look more decorative, they are commonly used for casseroles that are served directly from the oven to the table. And since they are usually more decorative, they tend to be a bit more expensive than glass pans. Glass pans are less decorative and more affordable so they are great for everyday use.

These casserole pans are great for evenly cooking food because they distribute heat evenly. However, glass and ceramic pans take a long time to heat up, but once they are hot, they stay hot for a long time. Because ceramic and glass cannot quickly jump between temperature changes, they can even break in extreme jumps in temperature. When baking a make-ahead casserole it's important to let the casserole return to room temperature to prevent the pan from breaking. Since glass pans are non-reactive, you can store the food in the pan without worrying that it will pick up any unwanted flavors.

Think of ceramic and glass pans as your multipurpose pans because they can essentially be used for any casserole.

Recipes featured above:
John Wayne Tater Tot Casserole (Pictured on left)
German Cabbage Casserole (Pictured on right)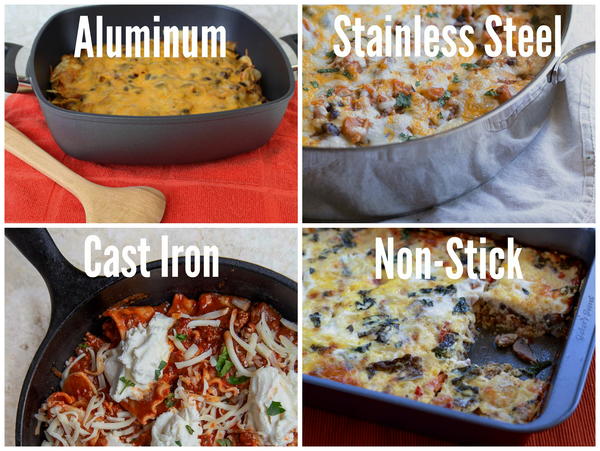 Metal  Casserole Pans

Pros: Conducts heat quickly, Can withstand sudden fluctuations in temperature, Creates a browned crust on casseroles
Cons: Not good vessel for storing food, Not great for acidic recipes

Aluminum – A good type of material for even browning. Aluminum pans are not good for storing foods because they can add a metallic taste to your food. Most commonly found in the form of disposable pans, but aluminum can also be used in heavy-duty casserole pans.
Stainless Steel – These pans are good for casseroles, but do not bake as evenly as aluminum. They are visually attractive and can also be used for serving.
Cast Iron – A great multipurpose material that is naturally nonstick. These pans can be easily transferred from the stove to the oven, so they are perfect for one-pan meals.
Non-Stick – This type of pan features a non-stick coating that is great for easy cleanup. Unfortunately, use of cooking sprays can create an unsightly residue that is difficult to clean.

Since metal pans are great for conducting heat, they are great for casseroles that have a bottom crust. The metal will give your dish a nicely browned crust. This type of casserole dish is great for quick meals since metal bake ware heats up and cools down quickly. Metal pans can quickly and safely fluctuate between temperatures. Metal pans are also great to use when a recipe needs to be broiled at a high temperature.

Metal pans aren't the best choice for acidic recipes, such as lasagna, because the acid can react with the metal and add an unpleasant metallic flavor to your food. This is particularly a problem with uncoated aluminum pans. However, you can bake lasagna in a metal pan with parchment paper with the help of this tutorial.

Recipes featured above:
Emily's Favorite Mexican Casserole (Pictured top left)
Sweet Potato Enchilada Casserole (Pictured top right)
Skillet Lasagna for Two (Pictured bottom left)
Sausage and Egg Casserole with Sun-Dried Tomatoes (Pictured bottom right)
How to Clean Different Types of Casserole Pans
Before deciding on the type of pan to use for a recipe, you will also want to consider cleanup. Depending on the type of pan you're using, you'll need to adjust your cleaning method.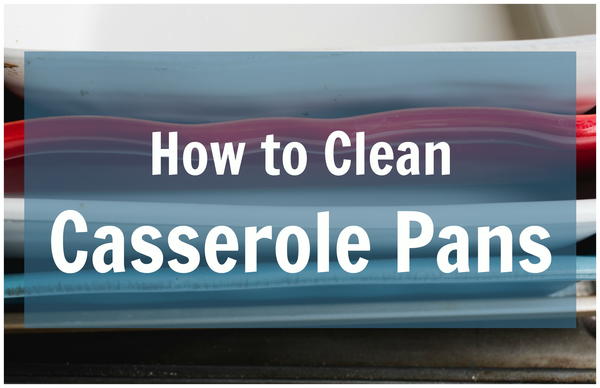 How to Clean Glass & Ceramic Casserole Pans – If your casserole pan has baked on stains, the best way to clean it is with a combination of baking soda and dish soap, according to Good Housekeeping.

1. Remove most or all of the food particles from the pan.
2. Fill the pan with a mixture of baking soda, dish soap, and hot water and let it sit for at least 15 minutes.
3. Then, scrub the pan with a sponge and wash normally.

It will also save you a lot of time and headache to wash your pan as soon as possible after you use it. The longer grease sits on a pan, the harder it is to clean in the future.


How to Clean Metal Casserole Pans – The best cleaning method for your pans depends on the type of metal the pan is made of and the coating it has.

Aluminum – These types of pans can be difficult to clean especially when they don't have a non-stick coating. A great technique, according to Clean Mama, is to sprinkle baking soda on the pan and rub it in with a wet paper towel. Then, use aluminum foil to buff out the stains.

Cast Iron – Since cast iron pans are naturally non-stick, you don't need to worry about removing stuck-on food. However, maintaining cast iron requires a specific cleaning process. After cooking, scrub the pan with salt and cloth to remove burnt food. The pan can be rinsed briefly with water and soap, but keep in mind that you will need to re-season your skillet if you expose it to water.
For step-by-step instructions on cleaning and maintaining your cast iron skillet, check out the video below.


Stainless Steel – Once the pan has cooled completely, rinse the pan with warm soapy water to remove large food particles. If you're cleaning a pan with burnt on food, make a paste out of water and a non-abrasive cleaner and scrub the pan with a non-abrasive sponge. Then, wash the pan normally.

Non-stick - If you're using a non-stick metal pan, the non-stick coating will prevent most food from sticking. In most cases, non-stick casserole pans can be hand washed in warm soapy water with a mild dish soap. Since non-stick pans are not meant to be used with cooking sprays, using these aerosol oils can create a residue that builds up over time. Washing these pans in the dishwasher can damage the coating, so hand washing is best.
Your Recently Viewed Recipes