Halving a Recipe: How to Cut a Casserole in Half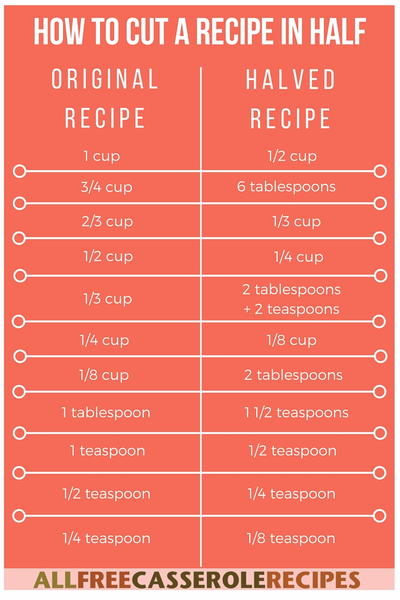 Casserole recipes are great for feeding large groups, but are not always the best for one or two people. You may think that you cannot make a casserole unless you have an army to feed, but with our easy guide on Halving a Recipe: How to Cut a Casserole in Half, you can make a delicious casserole for as many or as few guests as you want!

Our guide on halving a recipe will teach you the best tips and tricks on how to make a casserole work for any situation. Whether you want to avoid leftovers or you want to make an easy dinner for two, this guide will show you how! As an added bonus, we have included a helpful chart on halving common measurements. With our guide on hand, there is nothing stopping you from making an amazingly easy meal, be it for breakfast, lunch, or dinner. So get out your baking dish and start casseroling!

Don't waste another day dreading unwanted leftovers or struggling to think of an easy dinner recipe. Use our guide to make any casserole work for any group of people, big or small.
How to Cut a Casserole in Half
Choose the Correct Pan

When choosing a smaller dish, it is important to choose one that has similar proportions to the dish specified in the original recipe
For example, if the new dish you choose is too deep, the casserole may not bake completely; conversely, if the new dish is too shallow, the casserole may bake too quickly and become dry

Cut the Ingredients in Half

Refer to our easy guide (above) for help in halving common measurements.
For the most precise recipe, beat the egg until the yolk and white are combined and measure out 2 tablespoons.

Do The Math Before You Start Cooking

If you write down the halved measurements before you start cooking, it will make the entire process much easier.

Adjust the Baking Time

Reduce the baking time by about 5 minutes.
This 5 minute time reduction is important, especially if the casserole is halved from a 9 x 13-inch recipe to an 8 x 8-inch dish. This is because an 8 x 8-inch dish holds slightly more than half of a 9 x 13-inch dish.

General Tip

You can always make the full recipe, but divide it between two smaller pans. Enjoy one and freeze the other for later!
You Halve to Try These Casserole Recipes!
Your Recently Viewed Recipes