Hamburger Pie with Garlic Mashed Potatoes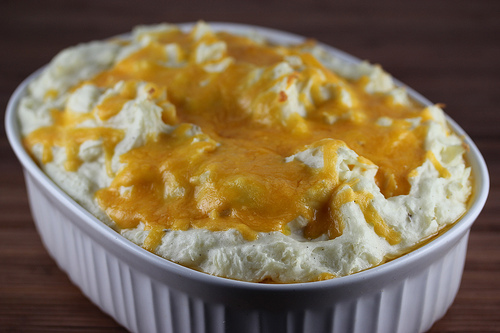 Hamburger Pie with Garlic Mashed Potatoes
If you want another ground beef casserole to mix into your weekly dinner rotation, this Hamburger Pie with Garlic Mashed Potatoes is a good choice. It's very similar to a shepherd's pie recipe, only a bit simpler. The savory vegetable and ground beef mixture sits underneath a heavenly layer of garlic mashed potatoes. A sprinkling of cheese on top adds even more excitement to the dish. Not only is this ground beef casserole intensely flavorful, it is also super simple to make. This easy casserole recipe features so many great flavors that your family will want you to make it every week!
Serves4
How to Peel Garlic
Not sure how to peel garlic? Are you looking for an easier method to try? Check out our video and learn three easy ways to peel garlic.
Why You Should Make This Hamburger Pie
The beauty of this easy hamburger pie is that it is a complete meal. Unlike the typical shepherd's pie, this easy dinner recipe features mushrooms, onions, and green beans. You won't have to worry about not getting enough vegetables in your diet! To top it all off, a fluffy layer of mashed potatoes is spread over the hamburger mixture. The secret to the mashed potatoes is that they are whipped with a beaten egg and milk. The potatoes puff up in a way that is simply divine! The fluffy, lightly crispy mashed potatoes are the perfect complement to the rich and hearty hamburger mixture. This hamburger pie is a full meal that the whole family will love.

If you're still not sold on this hamburger pie, this dinner recipe makes fantastic leftovers. You might even find that this ground beef casserole tastes better the next day! The hamburger filling takes on rich flavors from the tomato soup, mushrooms, and onions. Enjoy a warm scoop of this hamburger pie for a comforting meal.
Your Recently Viewed Recipes