Doritos Casserole with Ground Beef
Spice up your dinner routine with this Dorito casserole with ground beef!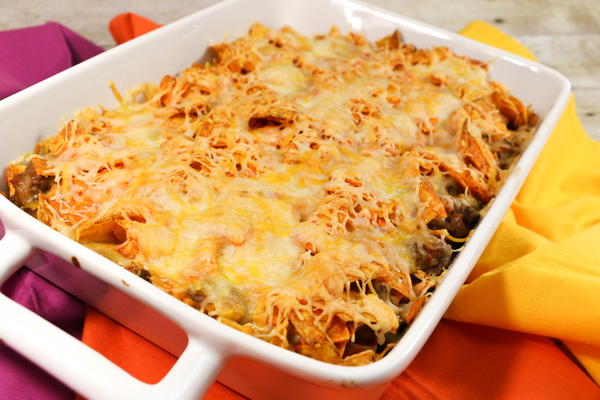 Doritos Casserole with Ground Beef
Everyone needs a cheesy ground beef casserole in their life. If you don't have one yet, Doritos Casserole with Ground Beef is a great one to get started with. The Doritos make it fun and the rest make it comfort food. If you like recipes with ground beef, then you will love this recipe.

One plate of this cheesy casserole recipe has the power to turn a frown upside down. What's more, it's incredibly easy to make, so say good-bye to stress at the kitchen door. Because this ground beef casserole is so easy to make, Doritos Casserole with Ground Beef is sure to become one of your favorite go-to weeknight meals.

If you have never tried making a Dorito casserole with beef before, then now is the perfect time to make our recipe for Doritos Casserole with Ground Beef. It's amazing how well the cheesy, crunchy chips complement the ground beef filling. Try making this Dorito casserole for your next taco night and serve it up with all of your favorite taco fixings. You'll want to include this casserole in your rotation of ground beef recipes!
Serves6
Cooking Vessel Size9 x 13-inch baking dish

Ingredients
1 pound ground beef

1

/

2

cup diced onion
2 tablespoons taco seasoning
1 (10-ounce) can cheese soup
1 (10-ounce) can tomatoes with green chiles
1 (10-1/2-ounce) bag Doritos chips, Nacho Cheese flavor
3 cups Mexican blend shredded cheese
sour cream and salsa for serving
Instructions
Preheat the oven to 350 degrees F. Lightly spray a 9 x 13 baking dish with vegetable spray.

In a large, deep, non-stick skillet, brown the meat with the onion and taco seasoning until the meat is no longer pink, about 5 minutes, breaking up the meat with the back of a spoon. Add the soup and tomatoes to the pan and stir until blended.

Use your hands to crush the chips slightly. Place about 1/3 of the crushed chips into the bottom of the pan, then spoon of the meat mixture over the chips. Top with 1 cup of the cheese, spreading evenly in the dish.

Layer another 1/3 of the chips, the rest of the meat, and another cup of the cheese.

Top with a final layer of the chips and top with the final cup of cheese.

Bake for 25 minutes. Serve with sour cream and salsa on the side for topping each serving.
The History of Doritos
Over the years, Doritos have become a staple of America's snack time. Not only are the crunchy corn chips eaten between meals, but they're also used in recipes such as this Ground Beef Doritos Casserole. But have you ever wondered where these tasty orange chips came from?

Archibald "Arch" West, a marketing executive for Frito-Lay, is credited with inventing Doritos. Some say that West was inspired to create the chips after visiting a Disneyland restaurant. The more probable origin story, though, is that in the 1960s West and his family stopped at a roadside eatery in California where he saw the cooks making fried corn chips. Inspired by what he saw, West pitched the idea for Doritos to Frito-Lay, and the rest, as they say, is history.

Doritos is known for its neon orange nacho-flavored variety, but the original chips had no flavor "dusting" on them at all. The name is purportedly derived from the diminutive forms of the Spanish words oro or dorado, which mean "gold" and "golden," respectively.

Source: "11 Bold Facts About Doritos" by Mental Floss.
More Recipes Like Ground Beef Doritos Casserole
Would you try this casserole? Have you made this recipe? Let us know in the comments below!
Your Recently Viewed Recipes