Just the Two of Us: 28 Casserole Recipes for Two
These small casserole recipes won't leave you with a ton of unwanted leftovers!
By:
Natalie Taylor, Editor, AllFreeCasseroleRecipes.com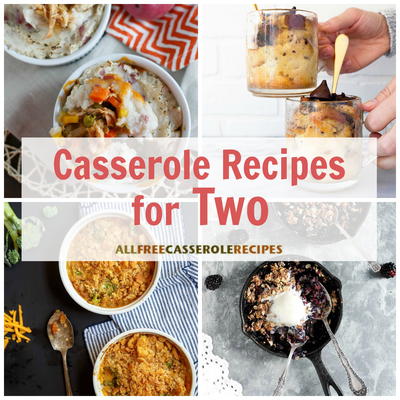 When there are only two of you to feed, it's nice to have recipes that fit your needs. Though leftovers allow you to take a night off from cooking, eating the same thing for days can get boring.

We've created this collection, Just the Two of Us: 28 Casserole Recipes for Two so you can make the perfect portion for you and your plus one. That being said, these recipes aren't just for couples! If you're cooking for just one, you'll have enough left over to enjoy the next day.

With the help of our recipe collection, you can plan your meals perfectly. Gone are the days of eating endless leftovers just because you don't want to be wasteful. There's enough variation in our collection below that you could cook your way through these recipes and not get tired of them. Try our favorite small-batch recipes for mac and cheese, tater tot casserole, apple crisp, and much, much more.

Whether you're an empty-nester who wants to make smaller meals, you are just learning how to cook for the first time, or you just want to freshen up your recipe repertoire, these our recipe collection will get you off to a great start.
Table of Contents
Cooking for Two: Tips and Tricks from an Expert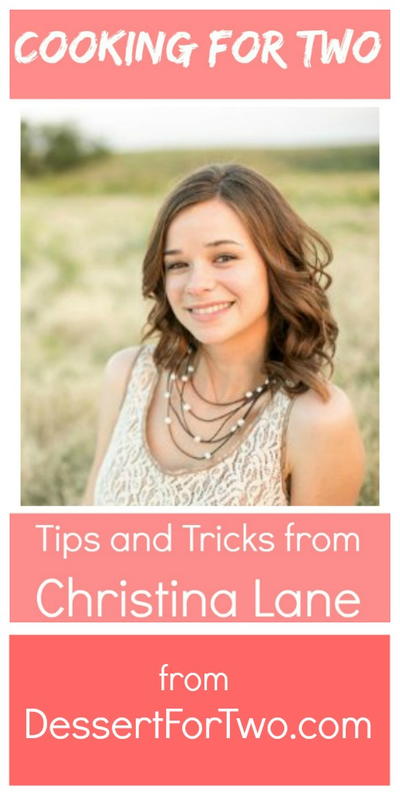 Since it can be a challenge to learn how to cook for two, we asked Christina Lane from Dessert for Two for her best tips:

What types of bakeware do you recommend for making casseroles for two?

Christina Lane: "When it comes to baking for two, there are a couple dishes I use the most: two 10-ounce ramekins are great for small batches of baked macaroni and cheese, and a standard 9-inch bread loaf pan is great for lasagna. In some cases, I just cut a 9 x 13 casserole recipe in half and bake it in a 8-inch square brownie pan. I usually get 4-6 servings, which is still more than 2 but a lot less than 10 servings!"

Do you have a go-to recipe for two?

CL: "My go-to casserole recipe for two is a small batch of enchiladas!"

What tips do you have for stocking a kitchen for making meals for two?

CL: "My best tip for stocking a kitchen for two is to only buy what you need. It's tempting when 5 pounds of ground meat is on sale to buy all of it, but unless you know you will divide it up and freeze it, it might go to waste. I also love to shop at farmer's markets and utilize CSAs to receive smaller portions of protein, which helps with the waste."
Breakfast Casserole Recipes for Two
These casseroles for two are perfect for those times when you crave a filling breakfast, but you don't want tons of leftovers. We've included a mix of sweet and savory recipes, so there's something to choose from no matter your mood. Find everything from egg casserole to baked oatmeal, and even Pineapple Breakfast Casserole below.
Ham and Potato Breakfast Casserole for Two

Seasoned diced potatoes from the freezer aisle and ham add the perfect amount of flavor to this easy egg casserole. It makes two generous portions, so there's enough to share!
Chicken Casserole Recipes for Two
If you are trying to get used to cooking for two, but still miss your go-to chicken casseroles, these recipes are great stepping stones.

We've included a classic comfort food recipe, Chicken Pot Pie for Two, that you'll want to put into your weekly rotation. If you'd like to try recipes that are quick to make but are lightened up a bit, try Chicken and Veggie Risotto Bake or Chicken and Broccoli Casserole with Quinoa. Green Chile Chicken Enchiladas for Two is a recipe that seems like it would be complicated to make, but it's actually very easy. If you are a vegetarian who loves Mexican food, you can easily substitute the chicken for canned pinto beans instead!
Green Chile Chicken Enchiladas for Two

These chicken enchiladas are so easy to make, especially if you already have cooked chicken! The creamy sauce is made from a simple combination of jarred salsa verde and sour cream.
Beef Casseroles for Two
When you think of casseroles with beef, you probably think of big-batch recipes that can feed a crowd. These recipes will prove you wrong! Flank Steak Pie is a creative way to use up leftover steak. Crescent Roll Casserole is a savory ground beef casserole that will leave enough leftovers for lunch the next day. Cowboy Tater Tot Casserole for Two and Cozy Tater Tot Casserole for Two each use a half pound of ground beef, so you could try both recipes to use up the whole pound.
Cowboy Tater Tot Casserole for Two

Indulge your craving for comfort food with this tater tot casserole for two. Even though this uses a partial can of cream of mushroom soup, the leftover soup can be frozen in a freezer bag.

Crescent Roll Casserole for Two

If you're looking for a new way to use ground beef and crescent rolls, this is a great choice. Salsa and chili powder adds Tex-Mex flavor to this casserole for two.

Cozy Tater Tot Casserole for Two

While this recipe includes instructions for homemade cream of mushroom soup, you can use canned cream of mushroom soup if you are short on time. 
Comfort Food for Two
Comfort food is always a good idea. However, if you're only cooking for a few, the dread of having too many leftovers can prevent you from enjoying a hearty meal. These casseroles for two are the perfect solution to your comfort food conundrum.

Keep this collection of casseroles for twohandy and you'll have the perfect rotation of meals. Whether you're cooking for two or just cooking for one, you will be able to make a wonderful meal and have the perfect amount of leftovers. However, you might find that these casseroles are so delicious you won't have any leftovers at all!
If you're cooking for more people, but you still want to keep things simple, check out our collection of
Healthy Casseroles for Dinner
Cooking for two doesn't mean just eating smaller versions of comfort food casseroles. You can still eat healthy while cooking casseroles for two!

Roasted Vegetable Lasagna for Two is a great option if you're a vegetarian or you just don't want to spend monkey on meat. One-Pan Baked Tilapia is light and guilt-free meal that is still satisfying. Skillet Paleo Casserole for Two is a recipe that follows the Paleo diet and can be on the table in just 30 minutes. Sweet Potato Surprise is a unique casserole that is vegan and can also be gluten-free!
Roasted Vegetable Lasagna for Two

Roasted vegeables are layered with lasagna noodles and creamy cheese sauce. This casserole is so satisfying that you won't even miss the meat!

Skillet Paleo Casserole for Two

Ground turkey, sweet potato, Brussels sprouts, and mushrooms create this simple and healthy skillet meal. This is a great way to use up produce you have in the fridge, too!
Dessert Casseroles for Two
The perfect way to end a homemade meal is with a simple dessert recipe. Just like breakfast and dinner recipes, leftovers are also a problem for desserts. It can be overwhelming to make a full-sized dessert recipe only to find that there's no way you can finish it by yourself.

No matter your dessert craving, we have sweet solutions below. For those who love fruit desserts, we've included recipes with blackberries, apples, and mixed berries. You'll also find a small-batch bread pudding recipe and even a skillet oatmeal cookie recipe!
BONUS! Casseroles for One
If you are only cooking for one and don't want the leftovers you would get from a meal for two, try these casseroles for one.

We've included breakfast casseroles, dinner recipes, and even dessert below. These recipes are just as satisfying and delicious a classic casserole that would serve ten.

Plus, check out some additional resources on cooking for one.
Tags / Related Topics
Your Recently Viewed Recipes
Images from other cooks

Recipe of the Day
This Easy Cheesy One Pot Lasagna is evidence that lasagna doesn't need to be a lot of work. This tasty meat lasagna recipe uses one… See more
Something worth saving?
SAVE all your favorite recipes
ADD personal notes
QUICKLY reference your recipes
Sponsored Content