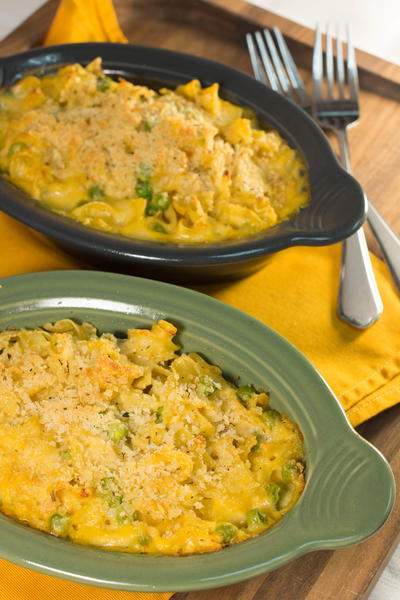 Tuna Pasta Bake for Two
Nothing takes you back to your childhood quite like a tuna noodle casserole. Even if you're new to making casseroles for two, you can't go wrong with this simple recipe. This recipe for Tuna Pasta Bake for Two allows you to enjoy the classic casserole without creating a ton of leftovers. Baked in two ramekins, this recipe creates two mini casseroles that look as impressive as they taste. However, no one needs to know how simple it was to make! It can be your little secret.

If you are craving a creamy and comforting dinner, look no further than this tuna pasta bake. Because it is made with peas, tuna, and cheese, this complete meal doesn't even require a side dish. What could be better than that? Make this easy casserole tonight and enjoy a delicious meal that everyone will love.
Serves2
Ingredients
3 ounces wide egg noodles
1 tablespoon butter
1 shallot or green onion, finely minced
salt and freshly ground black pepper
1

1

/

2

tablespoon flour

3

/

4

cup chicken broth

1

/

2

cup milk
1 (5-ounce) can water-packed tuna, very well drained

1

/

4

cup frozen peans

1

/

4

cup shredded Cheddar cheese
1 tablespoon Parmesan cheese, finely grated
1 tablespoon Panko-style breadcrumbs

1

/

8

teaspoon Italian herb seasoning
Instructions
Preheat oven to 375 degrees F. Spray two individual ramekins with cooking spray.

In a small saucepan, melt the butter and sauté the shallot or green onion for 1 minute, stirring. Add the flour to the pan and, using a whisk, stir over medium heat until flour is well cooked, about 1 minute. Slowly add broth and milk, whisking until mixture bubbles and thickens, about 4 minutes. Season with salt and pepper.

Turn off the heat, stir in cheese and stir until it melts. Stir in tuna and peas and toss well with the noodles. Spoon into the prepared ramekins. Combine Parmesan cheese, breadcrumbs, and Italian herbs and sprinkle over the top. Bake 20 minutes until lightly browned and bubbly.
Your Recently Viewed Recipes