15 of the Best Bread Pudding Recipes Ever
Find chocolate bread pudding, classic bread pudding, and bread pudding recipes for the fall!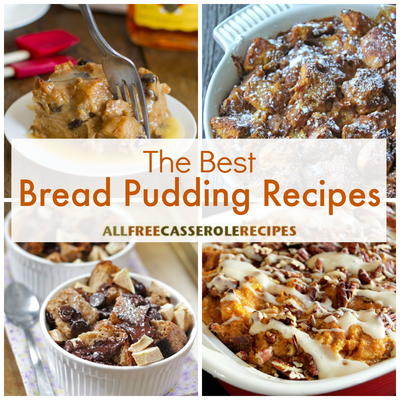 While bread pudding is a traditional Southern-style dish, it tastes so great that it is now enjoyed all across the globe. There are so many different types of bread pudding that you could eat a different type for dessert every day of the week.

From classic bread pudding recipes to chocolate bread pudding recipes, we have compiled bread pudding recipes for all tastes. Whether you like your bread pudding with whiskey, chocolate, or even pumpkin, we guarantee that there is a bread pudding for you. Come check out 15 of the Best Bread Pudding Recipes Ever. 

Even though bread pudding is often thought of as a cold-weather dessert, bread puddings can also be enjoyed as breakfast casseroles. You can enjoy bread pudding any time of year with these delicious dessert casserole recipes.

Many of these easy bread pudding recipes are similar to traditional French toast casseroles, which makes them perfect for Christmas breakfast, Easter brunch, or Mother's Day celebrations.
15 of the Best Bread Pudding Recipes Ever
Table of Contents
Your Recently Viewed Recipes