8 Meal Planning Tips Everyone Should Know
Simplify your life with these easy tips for meal planning.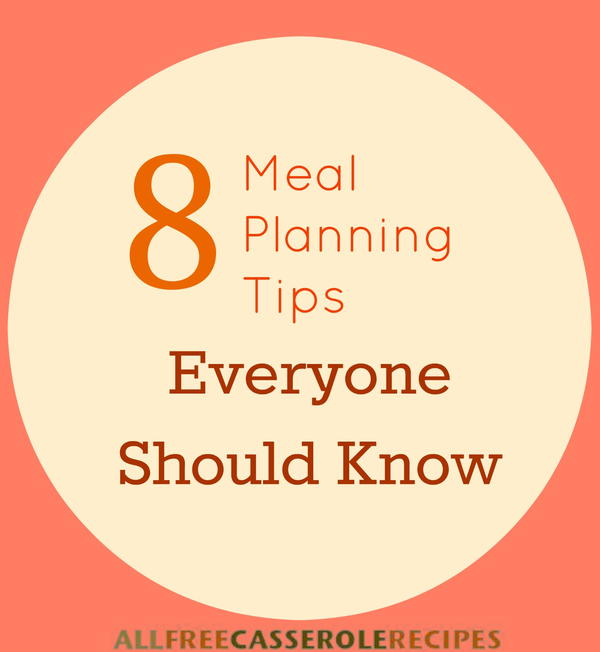 At the end of a long day, it's nice to be able to come home and whip up a delicious meal. However, we've all experienced that sinking feeling when we have no idea what to make.

We've created this guide, 8 Meal Planning Tips Everyone Should Know to make your life a little easier.

There are tons of articles about how to create a week's worth of meals in a day, but rather than overwhelming you with the details, we decided to give you some basic tips and tricks for smarter meal planning. Instead of a rigid meal plan where you're forced to eat the same dinner every day, you'll find some general tips on everything from preventing unwanted leftovers to allowing yourself to take a break.

After all, cooking should still be fun! Whether you're looking for practical ways to include more vegetables in your diet or you'd like to prevent a mountain of unwanted leftovers, this guide will give you some helpful ideas.
8 Meal Planning Tips Everyone Should Know
When you've tried a new recipe, give it a thumbs-up or a thumbs-down.
That way, you can decide whether or not it's a meal you want to make again. If it didn't turn out the way you wanted or your family didn't like it, it's a waste of time and money to make it a second time.
It's okay to buy frozen food.
Frozen vegetables are great to have on hand if you've used up the week's supply of fresh vegetables. Frozen peas, mixed vegetables, or broccoli are great for adding to casseroles.
Be smart when buying fresh food.
There's nothing worse than spending time carefully choosing fresh produce only to end up throwing it away at the end of the week. Only buy the produce that looks the best and you know you'll eat.

If there is a great sale on a normally expensive item, like chicken breast, take advantage of it. Use the opportunity to cook a big batch of chicken breasts and chop or shred the meat and store it in the freezer to use in future casseroles.

For more info and a video on how to cook chicken breasts, check out our guide, 4 Ways to Cook Chicken for a Casserole.
Create a 15-day meal plan and repeat it twice for a month of meals.
If you're new to meal planning, this is an easy way to start. Once you've gone through your trial and error period, decide on your favorite meals and make a list of your go-to ingredients.
Allow yourself to take a break.
It can be daunting to make a homemade meal every night. Include some "off" days in your meal plan. Designate a few days for eating leftovers, dining out, or making a frozen pizza.

It's better to take a few nights off then to feel overwhelmed by the planning process and abandon your plan entirely.
Plan meals with ingredients that can be used in several different ways.
Rotisserie chicken can be used in a variety of chicken casseroles. Pork chops can be shredded and used in another recipe.
When prepping casseroles, divide the recipe among several pans.
Using a few loaf pans instead of a full-sized 9 x 13-inch baking dish will prevent lots of unwanted leftovers.

If you're just cooking for yourself, or for yourself and your spouse, or you have a small family, simply thaw out one of the loaf pans and enjoy that portion for dinner. That way, you won't feel like you have to finish that entire casserole in a few days.
Start the week with a simple meal.
Mondays are a good time to whip up something simple, your go-to meal, or even a freezer recipe. If you start your meal planning goal with something that's too challenging, you'll be more likely to get discouraged.
Choose from a variety of meal plans - including 5-ingredient recipes, Paleo meals, and more!
Making meals ahead of time and using your freezer will help make meal time less stressful.
Your Recently Viewed Recipes