14 Slow Cooker Casseroles Free eCookbook
By: Emily Racette, Editor, AllFreeCasseroleRecipes.com

Updated April 10, 2017
Slow cooker casseroles are fun and convenient meals. Not only are they easy to make, but you don't need to make anything else with it, since the casserole combines a whole meal into one dish. Our free eCookbook, 14 Slow Cooker Casseroles, includes some terrific slow cooker recipes that will feed you from morning to night.

Throughout this free eCookbook, you'll find a variety of slow cooker recipes. We start with breakfast recipes that cook while you sleep. Next, you'll find all sorts of dinner recipes, including pasta dishes and Mexican casseroles. We end it all with...desserts. If you've never made a dessert in your slow cooker before, now's the time to start. We have two awesome slow cooker cakes in this eCookbook. Download your free copy of 14 Slow Cooker Casseroles to access all of these wonderful recipes.
I want a free copy of the 14 Slow Cooker Casseroles eCookbook!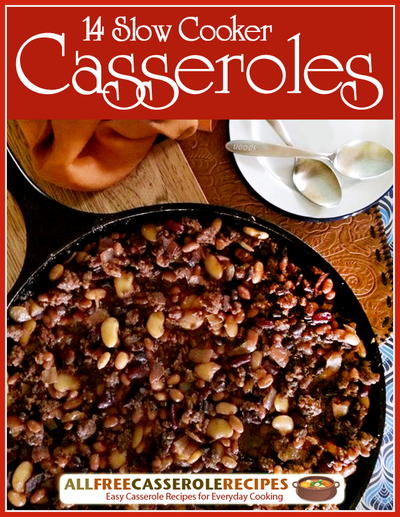 14 Slow Cooker Casseroles
Table of Contents
Don't Miss Our Other Free eCookbooks
Slow Cooker breakfast casseroles are some of the greatest things on earth. Let's be honest, making a big, hearty breakfast in the morning is not always an option, even if you wouldn't mind eating one. It takes time to fry the bacon, cook the sausage, make the hash browns, and cook the eggs; time that is scarce in the a.m. Slow cooker breakfasts are lifesavers. Place all the ingredients in the slow cooker, and while you sleep, breakfast will cook. After you wake up from a good night's rest, breakfast will be waiting for you. Now THAT's something someone can get used to.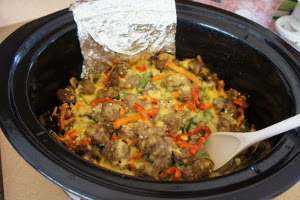 Slow Cooker Strawberry French Toast Casserole - A French toast casserole is especially good as a weekend breakfast or brunch. If you are going to feed French toast to a crowd, a casserole is the way to do it.
Slow Cooker Spinach, Mushroom, and Pepper Breakfast Casserole (p. 8, pictured). This hearty casserole is chock-full of ingredients that will keep you full all morning long.
---
Download your free copy of the 14 Slow Cooker Casseroles eCookbook today!

---
Calling your slow cooker "magical" is acceptable in our book. Think about it, when you get home from a long day at work or running errands to a home-cooked meal that you haven't touched in hours, it's like dinner appeared out of nowhere! "Where did that come from? Oh, yeah. I prepared it this morning." It's so great to come home to a hot meal that's ready to eat. The Slow Cooker Meals chapter of the 14 Slow Cooker Casseroles eCookbook contains some great recipes for dinner.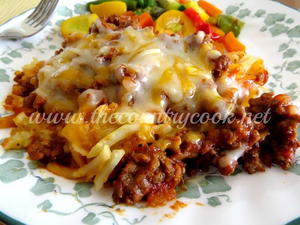 Slow Cooker Sloppy Joe Casserole (p. 11, pictured) is a real winner for family members of all ages. Sloppy Joe meat is piled top of hash browns and topped with Cheddar cheese - yum! This sloppy Joe doesn't require any buns, so if you're trying to cut down on carbs, this recipe is for you. So, dig in!
Grandma's Calico Bean Hotdish - Made with six different types of beans, this casserole is bean city. Ground beef and bacon also make an appearance, and help transform this dish into a hearty meal.
---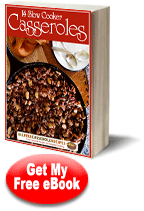 Download your free copy of the 14 Slow Cooker Casseroles eCookbook today!
---
The next chapter keeps with the dinner theme but focuses on pasta. You can do a lot with pasta in your slow cooker, as this chapter proves.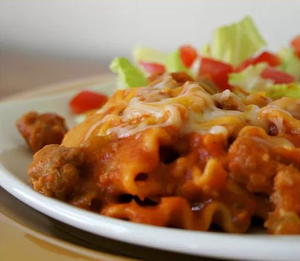 Slow Cooker Lasagna (p. 12, pictured) - This is a great recipe to serve to dinner guests because it is prepared five hours ahead of time. That leaves you plenty of time to get ready before they arrive. Instead of cooking, cleaning, and getting ready all at once, spread out those tasks by utilizing your slow cooker. It's a big help.
Simple Tortellini Lasagna Casserole (p. 15) - Instead of lasagna noodles, tortellini is the pasta of choice. And get this - you don't have to cook the noodles beforehand! Just layer the tortellini with the sauce and meat in your slow cooker and let it cook.
---
Download your free copy of the 14 Slow Cooker Casseroles eCookbook today!
---
From Italian slow cooker casseroles, we move to Mexican slow cooker casseroles. We're adding a bit of flair to dinner. Are you ready?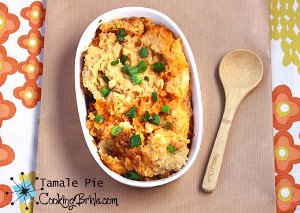 Slow Cooker Mexican Enchilada Casserole (p. 16) - After browning the ground beef in a skillet, this dish becomes a one-pot meal. Throw everything into the slow cooker and let it cook for either two hours on HIGH or four hours on LOW. It's a relatively fast meal for a slow cooker, so if you can't fix something in the morning, this is a recipe that's more your speed.
Slow Cooked Tamale Pie (p. 17, pictured). Now, you may be skeptical about a tamale pie since tamales are made in a particular way. This tamale pie isn't exactly like traditional tamales, but because it's made in a slow cooker, the cooking process resembles the traditional process more closely than if it was made in an oven.
---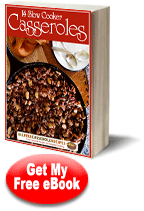 Download your free copy of the 14 Slow Cooker Casseroles eCookbook today!
---
When you think of slow cooker recipes, you probably don't think of desserts. Well, you're missing out. There are tons of sweet treats you can make in your slow cooker, and we've included two cakes in the 14 Slow Cooker Casseroles eCookbook.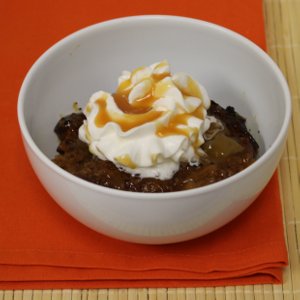 Pumpkin Apple Dump Cake (p. 18, pictured) is a piece of cake to make (no pun intended). It's basically a dump and go recipe; there's nothing to it. Yet, the result is a delicious dessert that combines two fall flavors: pumpkin and apple. They make a great combination, as you'll soon find out.
Slow Cooker Brownie Pudding Cake (p. 19). This pudding cake is very moist and is served best in mason jars with a dollop of ice cream. You're probably imagining it right now.
---
Download your free copy of the 14 Slow Cooker Casseroles eCookbook today!
---
Need Help Downloading?
AllFreeCasseroleRecipes eCookbooks are free downloadable recipe collections organized around a theme, such as easy casserole recipes, vegetable side dishes, and many more. These eCookbooks are PDF documents that can be downloaded off of our website, saved to your computer, and/or printed out for easy reference while cooking. If you are having trouble downloading our free eCookbooks, visit our FAQ Page: How to Download our eCookbooks.
Sign Up for Our Newsletter
With your free copy of our 14 Slow Cooker Casseroles eCookbook you can also subscribe to our newsletter The Casserole Connection to become part of the wonderful casserole community. In subscribing to the newsletter you will receive:

Weekly emails with casserole recipes, tips, collection pages and more.
Chances to win cooking books and products from our weekly giveaways and contests.
New FREE recipes made available to you throughout the year.
Access to our free recipe library full of hundreds more free recipes.
The opportunity to share ideas and help others in the cooking community.
This sneak peek of what this new eCookbook has in store for you has hopefully convinced you to download it free today. If any or all of these recipes appeal to you, click on one of the eCookbook icons anywhere on this page to download your free copy of 14 Slow Cooker Casseroles. You won't regret downloading this free eCookbook and printing its delicious recipes! Once you get your copy, you can either keep it on your computer or eReader, or print it out and keep it in your kitchen. No matter how you use your eCookbook, once you've tried even one of the recipes, you'll be glad you downloaded it.
---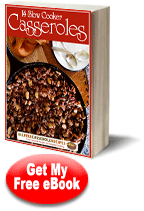 Download your free copy of the 14 Slow Cooker Casseroles eCookbook today!
---
Tags / Related Topics
Your Recently Viewed Recipes
Images from other cooks

Love these recipes? Get MORE delivered to your Inbox – FREE Click Here!