Cowboy Tater Tot Casserole
Learn how to make cowboy casserole with this easy tater tot recipe!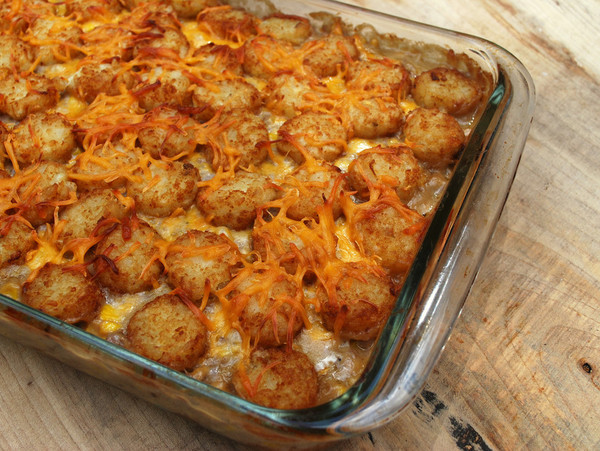 Cowboy Tater Tot Casserole
Get out your casserole dishes and prepare to make this excellent ground beef casserole recipe for Cowboy Tater Tot Casserole. It's got everything you love - tater tots, ground beef, corn, and cheese. It may not be the prettiest meal you ever make, but don't let that stop you. You'd miss out on a wonderful, filling dinner fit for the whole family. A cowboy casserole recipe like this can't be made too often. Once you try this easy ground beef casserole recipe for Cowboy Tater Tot Casserole, we guarantee that you will be making it for dinner at least once a week. No one will be able to resist second (or third) helpings of this hearty tater tot casserole.
BONUS Tater Tot Casserole
DID YOU KNOW?
As a staple casserole ingredient, it is hard to imagine life without the tater tot. They have a wonderful crunch and have the ability to make any casserole taste even more delicious. That's why it is hard to imagine that tater tots were originally invented to prevent the waste of potatoes.

Tired of the wasted potato slivers that were the result of making French fries, the founders of Ore-Ida created a product to make the most of these potato slivers. In 1953, the Tater Tot was invented by mashing up the potato slivers, adding a bit of seasoning and flour, and frying the potato mixture. Tater Tots were first available in stores in 1956. Little did the Ore-Ida founders know that tater tots would become one of their most popular products!

It is difficult to imagine what life would be like without the wonderful tater tot. Luckily we don't have to!
Your Recently Viewed Recipes