9 Casserole Recipes to Make When Eating on a Budget
Bonus: Get our newsletter & special offers for free. We will not share or sell your email address. View our Privacy Policy

Guide to Sympathy Meals: Helping Those In Need
Cooking for others is a thoughtful way to give TLC to friends and family in need.
By:
Natalie Taylor, Editor, AllFreeCasseroleRecipes.com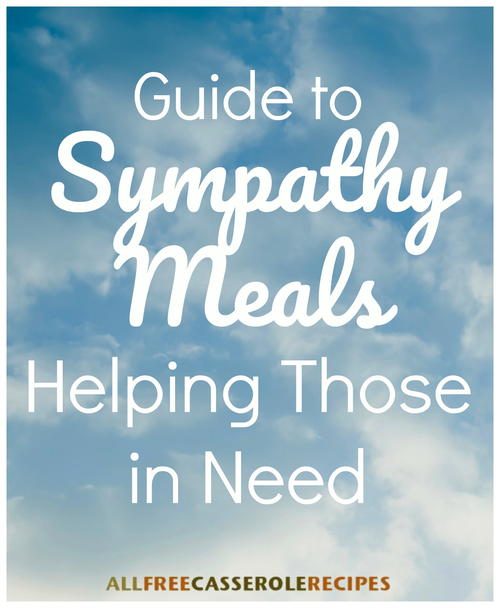 If you've ever experienced a stressful change in your life, you've probably been comforted by a homemade meal.

Homemade food can have a comforting and restorative effect and tastes even better when it's made with love by someone else. If you know someone who could use some extra TLC, delivering a meal is a wonderful place to start.

We have created this comprehensive Guide to Sympathy Meals: Helping Those In Need to help spread a little extra kindness by sharing a meal.

If you know someone who has lost a loved one, has welcomed a new baby, is injured or sick, has just moved into a new home, or is just going through a rough patch in life, consider making them a sympathy meal. It could make all the difference.
What is a Sympathy Meal?
Sympathy meals are usually homemade dishes prepared by friends and family to comfort those in need.

Cooking for others is a heartfelt gesture for people experiencing a stressful time in life. No matter the occasion for the sympathy meal, it can offer peace of mind to the recipient. While most commonly associated with funerals, sympathy meals are also helpful during other life events.

+   Loss of a friend or family member
+   Welcoming a new baby
+   An injury or illness
+   Moving into a new home
"Many times it's such a relief to have a meal brought over that the family doesn't have to worry about throwing together. I see it as a ministry to other people. I ask questions and look for opportunities to serve in this way. While it is a blessing to them, I have a gift for being able to throw meals together rather easily – so it's a win-win for all involved."

– Teresa Ambra, Can't Stay Out of the Kitchen
Communicate with Those in Need
1. See what types of recipes they would like – Depending on the situation, check in with the family to get an idea of their likes and preferences. If you don't want to bother them, check in with a close friend or family member about their needs and preferences instead.

2. Ask about any food allergies (or other dietary restrictions), food intolerances, or preferences for food.

3. Know how many people are staying at the house. There may be extra family and friends staying at the house (especially in the case of funerals and new babies).

4. Invite the family over to your house for a meal! Sometimes people just need an excuse to get out of the house for awhile. You could also offer to stay and enjoy the meal with them! Just remember that if they say no to these offers, don't take it personally.

5. Don't forget! If you've promised to bring a meal over on particular day, make sure to do it. Falling through on your promise isn't going to make the people in need feel any better. They might be depending on that meal!
How to Choose a Sympathy Meal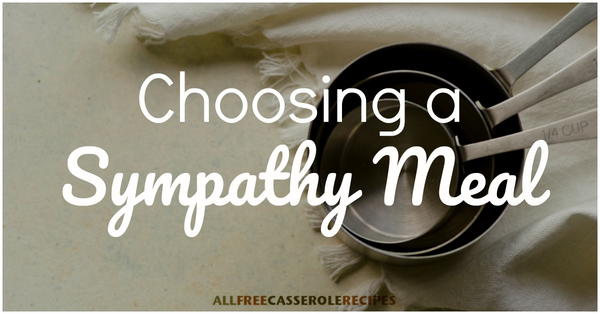 Be aware of dietary restrictions – Consider major food allergies to ingredients like gluten, dairy, or nuts as well as other food intolerances.

+   For new moms: New moms can occasionally have dietary restrictions, especially if they are breastfeeding. So keep this in mind when considering recipe ideas.
+   For those who are sick or injured: If you'd like to help someone who is sick or injured, consider their health condition and whether or not food would be appropriate. Since some medical conditions have dietary restrictions, cooking for them might actually be too difficult. Looking for an alternative way to help? Offer to help with errands or put together a care package instead. Read on for more ideas!

Think about when they will want to eat the meal – Consider if they will eat it that night or if they will want to wait and cook it later

Focus on healthier foods – Many people might be bringing them heavy, cheesy, and creamy casseroles, so switch it up and take a lighter meal. They also might be getting a lot of desserts, so a healthier meal may be welcome.

Make recipes that can freeze well, and that will taste good when they are reheated.

Choose classic recipes - Comforting recipes such as slow cooker meals and traditional recipes like chicken pot pie and shepherd's pie are great choices.
"I always ask the family if they're allergic to anything or don't like to eat certain foods. This is extremely important as you don't want to go to all the expense or preparation and then the family can't eat it because of severe food allergies. Also, it helps to know who you're cooking for. Some families eat everything, others are not very adventurous. I go with kid-friendly meals (pasta, mac and cheese) for families who are picky."

– Teresa Ambra, Can't Stay Out of the Kitchen
Sympathy Meals to Make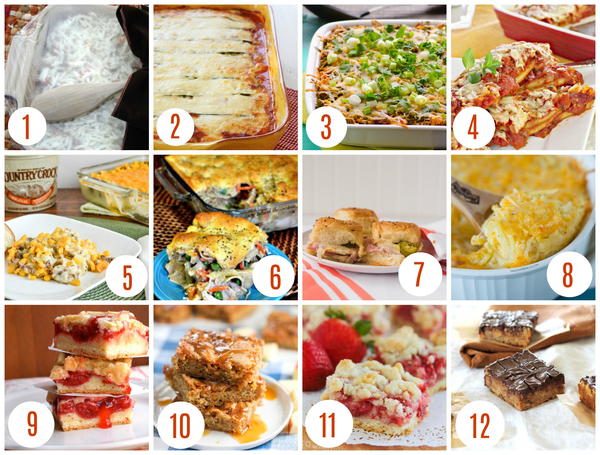 How to Package a Sympathy Meal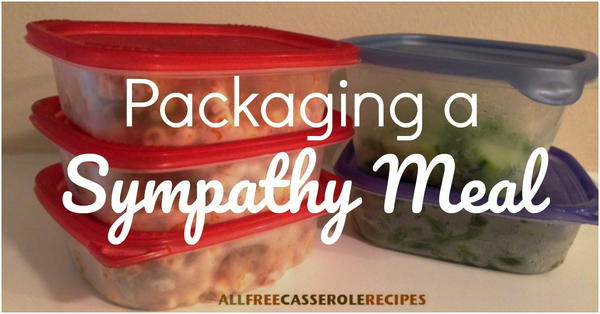 Once you've decided on the food you'd like to bring, you are ready to start cooking and packaging the food.

Consider how the food will be delivered – will it be warm, frozen – and allow yourself enough prep time.

Package the food in disposable containers that you don't need back. Aluminum foil pans or plastic food containers are great options.

Teresa Ambra from Can't Stay Out of the Kitchen says, "I pack a lot of food up in aluminum foil pans, so I don't have to trouble the family with getting dishes back. I save a lot of plastic containers that foods come in and reuse them for things like sliced fruit, salad, salad dressing or sauces. If it's a Bundt cake or another cake, I usually place the cake on old thrift shop plates that are extremely inexpensive but sturdier than paper plates which may give way."

Consider packaging food in individual portions – If you're cooking food for a small family or a recent widower, indiviadual portions will be simpler to reheat and the amount of food won't be overwhelming.

Include a label or recipe card – You'll want to include the ingredients (in case of dietary restrictions or allergies), directions for reheating, baking, freezing or thawing. It is also helpful to leave a note about the container. Mention whether or not you need the container back. You could also include your name and phone number, just so they can easily find it if they would like to call you.
How to Deliver a Sympathy Meal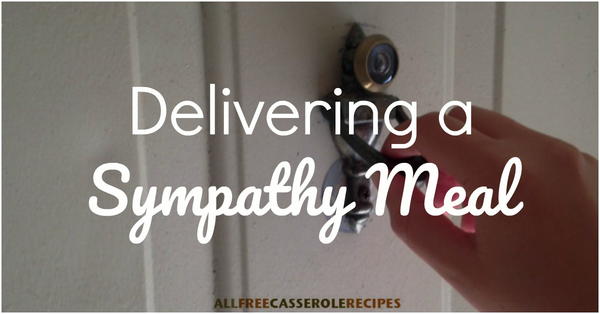 Call ahead - Make sure they are home before you head over. Tell them that you made dinner and that you will drop it off.

Include everything they'll need for the meal – For example, include salad dressing if bringing a salad and butter if you included bread. Consider including a simple dessert like muffins, since they can also double as breakfast. You could even include fruit and vegetables – just make sure they are already washed and cut to make it even easier on them.

Make serving it as easy as possible – If you're delivering a fully cooked dish or dessert, you could even slice it up for them. Consider including disposable plates, bowls, or cutlery.

Don't over-stay your visit – Depending on what the issue is, a long visit may not be what the family needs. However, if the person or family seems like they would like some company, don't hurry away!
How to Send a Meal to Someone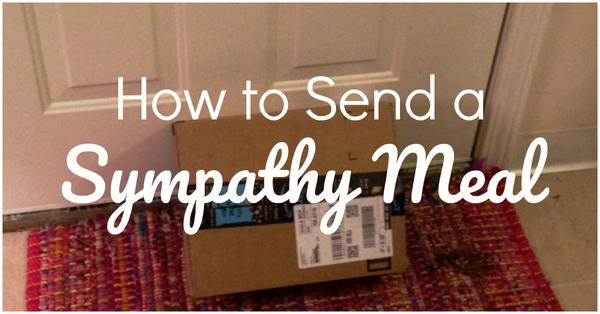 If distance separates you from the person or family you'd like to give a meal to, there are several solutions.

1. Ship food through the mail. Results may depend on the type of food you are shipping as well as the carrier service you use. For more detailed information on shipping perishables, check out the guidelines from three major carriers below.

     +   United States Postal Service – Shipping Restrictions
     +   UPS – How to Ship Perishable Foods
     +   FedEx – Perishable Shipping Information

2. Use a prepared meals service. Sometimes it just isn't practical to send homemade food through the mail. If you'd still like to send food, you can order meals online and have them delivered. Here are some popular services that specialize in sympathy food, gift baskets, and more:

     +   Send a Meal
     +   Meal Gifts
     +   Honeybaked Ham
     +   Harry & David
More Tips for Helping Those in Need
Organize a food-making group of friends and family to make a variety of meals for the family or person in need.

Gift cards to their favorite restaurant or pizza place can be a nice alternative if you're not able to make them a meal. Even better if the restaurant has a delivery service.

Offer to help with household chores like washing dishes or doing laundry, especially if you are a close friend or family member.

Send a card - No matter the occasion – the loss of a loved one, the birth of a child, an injury, a new home – acknowledging the change and offering your support is always a kind gesture. Personalize the gesture by making a handmade card! For inspiration, check out this tutorial and collection of card projects from our friends at AllFreePaperCrafts.com.

Pictured: Simply Stunning Watercolor Cards from AllFreePaperCrafts.com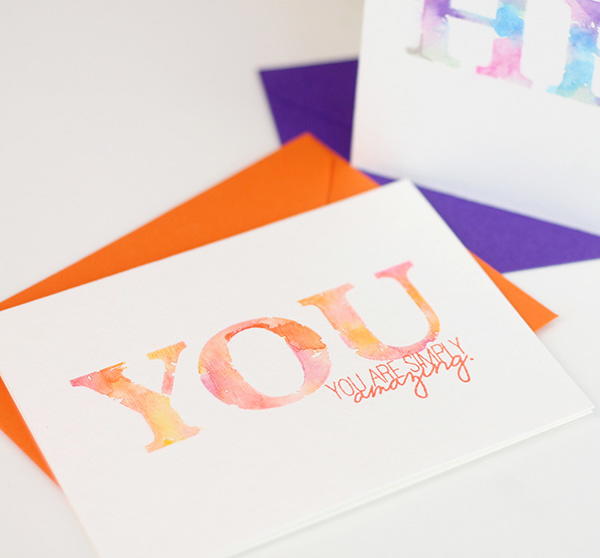 Ask if they need any other essentials –

+   Household items like toilet paper, paper towels, coffee, dishwasher soap, laundry detergent can be an extra hassle that they don't have time to buy.
+   Dropping off food staples like milk, bread, and eggs can also be a thoughtful gesture.

For Helping New Moms –

+   If they have older children, offer to babysit or take the kids on a fun outing like to a movie or out for ice cream.
+   Include a fun activity like coloring books or sidewalk chalk along with your meal.
+   Offer to run errands for the family or run errands with the new mom – sometimes company makes shopping easier
+   Invite the mom on a baby-friendly activity – such as a walk around her neighborhood
+   Pamper the new mom with a homemade bath product. For DIY bath bomb ideas, check out this collection from our friends at DIYIdeaCenter.

For Helping Those Who are Sick or Injured –

+   Create a care package – ginger ale, pain reliever, crackers, Jell-O, tissues, magazines
+   Offer to clean their house for them
+   Offer to mow their lawn, shovel the snow from their driveway
+   Offer to run errands for them
+   Offer to drive them to doctor's appointments
Have you ever made or received a sympathy meal that helped in a time of need? Share your story in the comments below!
Free recipes, giveaways, exclusive partner offers, and more straight to your inbox!
Tags / Related Topics
Your Recently Viewed Recipes
Images from other cooks

Something worth saving?
SAVE all your favorite recipes
ADD personal notes
QUICKLY reference your recipes
Sponsored Content