25 Old-Fashioned Church Potluck Recipes
Try one of these church potluck ideas, you're sure to come home with an empty dish!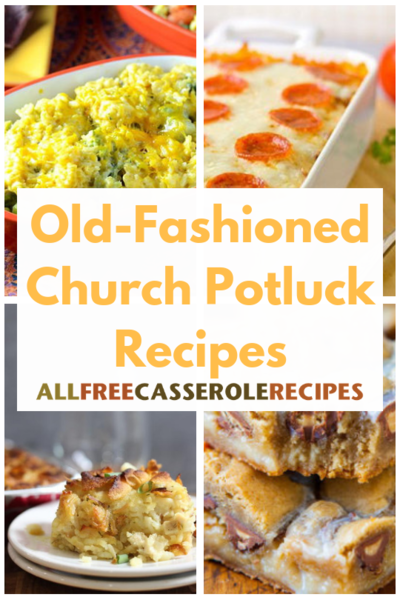 After church, it's quite common to stay gathered together with friends and family. People aren't ready to leave each other's company just yet. What better way to stay connected than when around a dinner table - or any kind of food table. These 25 Old-Fashioned Church Potluck Recipes are great to serve after church because they are easy to make and can serve a crowd. With good food and good company, the hours disappear quickly. Plus, old-fashioned recipes make for delicious meals and even greater connections.

Below, you'll find main dish, side dish, and dessert potluck recipes. The main dishes include a fun meatball casserole, southern favorites, a Mexican-inspired dish, and more. If the potluck isn't crowded, people will be coming back for seconds, and possibly thirds. To accompany these meaty main dishes, you'll find corn casseroles, beans, cabbage casseroles, and, of course, potato casseroles. There's even a "lighter" potato casserole if you are watching your weight.

Finally, a church potluck wouldn't be complete without a little something sweet. Whether you like desserts with fruit or chocolate, you'll find something below that will satisfy your sweet tooth. So, without further ado, here are our 25 Old-Fashioned Church Potluck Recipes.

Subscribe to our free newsletter!
Table of Contents
Main Dish Potluck Recipes
Here are the stars of the show. From a meatball casserole to a pizza casserole, these dishes are sure to amaze your taste buds. All different types of dishes make up the spread at a potluck, but the main dishes are always the main event. 
Side Dish Potluck Recipes
Side dishes shine at potlucks. Potato, corn, broccoli casserole, anyone? Yes, please! Side dish recipes are just as important as the main dish when it comes to a potluck. We've included classic recipes like potato casseroles and dishes with broccoli, as well as some unique recipes like cabbage casserole and broccoli cornbread. 
Dessert Recipes for Potlucks
We saved the best for last; at least, the sweetest for last. Take your pick from fruity desserts, chocolate decadence, or a classic Southern treat. Choosing from this collection will prevent everyone from bringing brownies, because after all, variety is the spice of life.
Your Recently Viewed Recipes