Poor Man's Hamburger Casserole
This ground beef casserole is an affordable and delicious way to feed a crowd.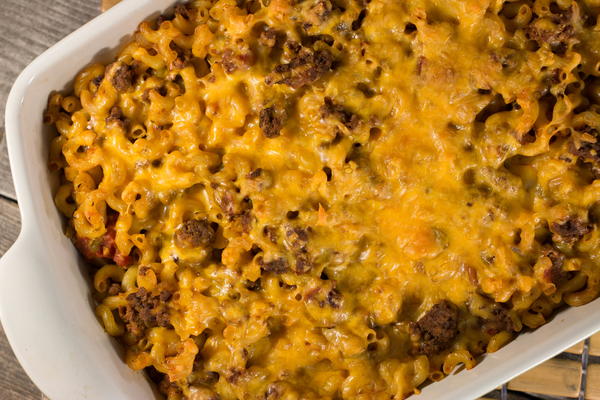 Poor Mans Hamburger Casserole
Poor Man's Hamburger Casserole is the perfect dish to whip up when you're on a budget. This easy hamburger casserole does not require much preparation, which makes it a great option for a weeknight dinner.

The combination of warm pasta with cooked ground beef and gooey, pizza-like Cheddar cheese tastes so comforting that it feels like it came straight from your mother's kitchen. It's a good thing this recipe serves a lot of people, because it's so delicious that you'll most definitely be helping yourself to seconds and thirds.

This ground beef casserole recipe is the perfect dish to make when you're hosting a big group, since it's simple to make and features crowd-pleasing ingredients like ground beef and cheese. If you're looking for a dish that will satisfy even the biggest appetite, this is a great one to try. Your family will ask you to make this recipe again and again!
Serves8
Cooking Vessel Size6-quart baking dish
Ingredients
1 pound elbow pasta
1 tablespoon vegetable oil
2 pounds lean ground beef
1 cup diced bell pepper
1 cup diced onion
1 tablespoon minced garlic
1 tablespoon Worcestershire sauce
1 teaspoon Italian spice mix

1

/

4

teaspoon salt
1 (16-ounce) can diced tomatoes, undrained

1

/

4

teaspoon pepper
2 cups shredded Cheddar cheese, divided
1 (16-ounce) can tomato sauce
Instructions
Preheat the oven to 375 degrees F. Spray a large 6-quart casserole dish with cooking spray.

Bring a large pot with 6 quarts water and a pinch of salt to a boil and cook pasta per package directions until al dente. Drain and set aside.

While the pasta cooks, place a large skillet over medium-high heat and, one pound at a time, crumble and brown the ground beef for 4 to 5 minutes until nicely browned. It does not need to be totally cooked at this point. Drain the meat and set aside, reserving 1 tablespoon of fat in the skillet.

Add the bell pepper and onion to the skillet and cook over medium-high heat for 2 minutes. Add the garlic and cook and stir another minute. Return the meat to the pan and stir in Worcestershire sauce, Italian spices, salt, and pepper, tossing for 1 minute.

Add the tomatoes and tomato sauce and stir. Bring to a boil and then lower the heat and simmer uncovered for 20 minutes.

In a large bowl, place the drained pasta, the tomato and meat mixture, and one cup of the cheese and toss well to mix. Spoon into the prepared casserole dish and smooth the top. Sprinkle with the remaining cheese and bake for 30 minutes.
More Details
Hey there, fellow food enthusiasts! If you're all about maximizing flavor on a budget, I've got a culinary gem that's going to tickle your taste buds and your wallet. Let's dive into the heartwarming world of the Poor Man's Hamburger Casserole – a recipe that's like a comforting hug in a baking dish.

Imagine this: you're home after a long day, hunger knocking on your door, and your culinary aspirations are limited by both time and money. That's where this casserole swoops in like a superhero of simplicity. With minimal prep, this dish gives weeknight dinners a delicious makeover without breaking the bank.

It's like a symphony of flavors in every bite. The harmonious blend of hearty pasta, seasoned ground beef, and that ooey-gooey Cheddar cheese, all baked to perfection, will whisk you away to a nostalgic place where Mom's cooking ruled the roost. And the best part? This recipe caters to a crowd – seconds and thirds are not only allowed but strongly encouraged!

Here's the secret weapon for all you hosts and hostesses out there. Picture this: a gathering of friends, family, or even acquaintances – the Poor Man's Hamburger Casserole doesn't discriminate. It's your reliable sidekick for those moments when you need to feed a hungry horde without spending hours in the kitchen. With trusty ingredients like ground beef and cheese, this casserole embraces simplicity without sacrificing on the 'mmm' factor.

But wait, there's more. Are you searching for a meal that can quell even the mightiest of appetites? Look no further, because this casserole packs a punch in the satisfaction department. The aroma that wafts through your kitchen while it bakes is like a siren's call, drawing everyone to the table. And let me tell you, the moment that first forkful meets your taste buds, you'll know you've found your new go-to recipe.

As someone who has spent years exploring the nooks and crannies of the culinary world, I wholeheartedly endorse this dish. It's not just a recipe; it's a reminder that great food doesn't need to be complicated or expensive. With a handful of humble ingredients and a dash of love, you can create something that resonates with the soul and fills the belly.

So, what are you waiting for? Embrace the magic of Poor Man's Hamburger Casserole, and let your kitchen become a hub of affordable, scrumptious creations. Your family, your friends, and your taste buds will thank you. Get ready to cook up a storm of simplicity and flavor – one casserole dish at a time!
Your Recently Viewed Recipes