Italian Crescent Casserole
This crescent casserole recipe is the perfect meal for a busy weeknight!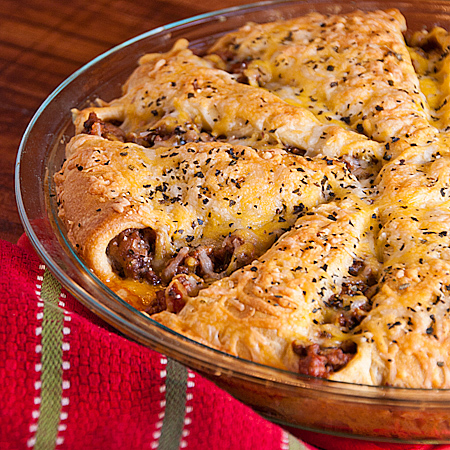 Italian Crescent Casserole
This Italian Crescent Casserole is a great ground beef casserole recipe and it is very easy to make. There are only five ingredients and six steps - can you believe that! A Pillsbury Crescent Roll crust covers the bottom and is folded over the filling, which contains ground beef, garlic pasta sauce, and cheese. It really is so simple and only needs to bake for 20 minutes. You'll have dinner on the table in no time.

This ground beef casserole would also be a quick, easy, and delicious dish to pass at a potluck. Everyone is sure to gobble up their helping of Italian Crescent Casserole, and this is guaranteed to be one of the best crescent roll casseroles you ever make.

Subscribe to our newsletter for more ground beef casserole recipes!
Cooking MethodBaking, Oven
Cooking Vessel Size9-inch pie plate

The Best Crescent Roll Casserole of the Year
The Italian Crescent Casserole is one of our top recipes of all time! Try this version with chicken in our Test Kitchen-approved recipe, Chicken Alfredo Crescent Casserole
DID YOU KNOW?
Refrigerated crescent rolls were invented by Pillsbury in 1965. They get their name from their French counterpart, the croissant, which is a similarly shaped pastry. In fact, "crescent" is the literal translation of the French word "croissant".

To promote the launch of crescent rolls, the company debuted the Pillsbury Doughboy, also known as Poppin' Fresh, in 1965. The first commercial featuring the Pillsbury Doughboy was made using stop-action claymation. The clay model that was used in the commercial cost $16,000 to create! The new mascot became so popular that a 7-inch Pillsbury Doughboy doll was released 1972.

Crescent rolls come in over 8 different varieties, including seamless dough sheets, and are a very popular ingredient in casserole recipes.
Do you like recipes with crescent rolls? Let us know in the comments!
Your Recently Viewed Recipes