Chicken Alfredo Crescent Casserole
What's the best recipe for chicken alfredo casserole? This cheesy chicken alfredo casserole recipe is sure to be the winner!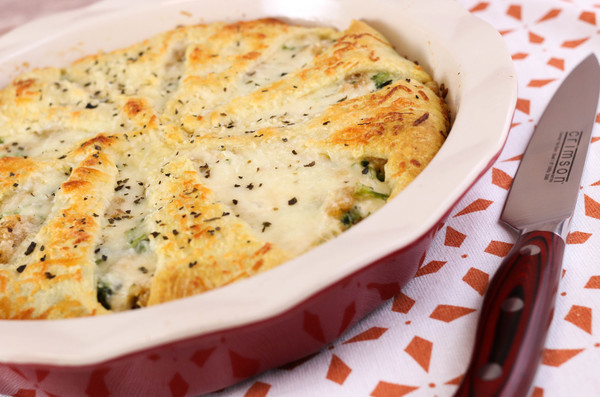 Chicken Alfredo Crescent Casserole
Crescent roll recipes make great weeknight dinners and this Chicken Alfredo Crescent Casserole is one of the best. The authentic Italian combination of juicy chicken, tender broccoli, and creamy Alfredo sauce is easy to replicate at home when you're armed with this chicken casserole recipe.

With just a few ingredients, you can create a hearty meal that's hard to resist, but so simple to make. You can use whatever ingredients you have on hand or even leftovers from last night, which will save you time and money.

One of the best things about this dish is that it has impressive presentation. If you serve this to guests, they'll think you spent all day in the kitchen preparing. No one needs to know how easy this is to throw together! Your family will definitely request this meal again, so one easy way to mix it up is to use different types of ingredients. This tastes great with baked, grilled, or breaded chicken. While broccoli is a perfect companion, you could also add in more vegetables like carrots or peas.

Subscribe to our newsletter for more crescent roll casserole recipes!
Ingredients
3 cups cooked chicken, diced
1 cup cooked broccoli florets, chopped
1 (15-ounce) jar garlic Alfredo sauce
1 (8-ounce) can crescent rolls
1

1

/

2

cup Italian blend shredded cheese

1

/

2

teaspoon dried basil
Instructions
Preheat oven to 375 degrees F and spray a 9-inch pie plate with nonstick cooking spray.

In a large mixing bowl, gently mix chicken, broccoli, and between 1/2 jar to 3/4 jar of Alfredo sauce together. Set aside.

Place triangles of crescent roll dough in dish about an inch apart from each other. Larger ends of triangles should be in the middle of the dish while the narrow tips should be hanging off the side of the dish by several inches. Spread each piece in the bottom of the pan until you are able to seal edges together and create a crust.

Sprinkle one cup of cheese onto dough. Spoon broccoli chicken mixture evenly onto crust. Spread a thin layer (about 3 tablespoons) of Alfredo sauce on top.

Gently pull tips of dough over the mixture until the tips touch in the middle. Sides of the tips should not touch one another. You should see the mixture peeking through the spaces between dough tips.

Top with remaining cheese and sprinkle with basil.

Bake, uncovered, for about 20 minutes or until golden brown.
Note from the Editor
Recipes that are impressive, delicious, and easy to make can be very difficult to come by, which is why I was so pleased with this recipe. Since I already had chicken in the freezer that I had already cooked and shredded, making this recipe was an absolute breeze. Plus, I love Alfredo sauce so I couldn't wait to try this recipe.

Since this recipe only has a handful of ingredients it is easy to play around with the amounts; you can use less chicken, try a different flavor of Alfredo sauce, or even add mushrooms to switch it up. I didn't have quite enough chicken, so I ended up using a lot more broccoli and sauce, and it turned out great!

This recipe would be perfect if you have unexpected company, because the ingredients are so easy to keep on hand. The sprinkle of dried basil on top gave this dish a touch of class as well as wonderful flavor. I recommend serving this chicken casserole with a side salad or your favorite steamed vegetables.
Your Recently Viewed Recipes