Swiss Diamond® is a privately-held company founded in 2001 with headquarters in Sierre, Switzerland, a city located in the heart of the Swiss Alps. The demand for better nonstick cookware motivated Swiss Diamond® to develop a revolutionary nonstick coating using real diamond crystals.

Swiss Diamond® seeks to empower individuals and families around the world to cook at home without sacrificing the convenience that nonstick surfaces offer. Swiss Diamond® remains firmly committed to meeting consumer cookware needs by using safe, high-quality materials, by emphasizing innovative design with traditional European craftsmanship and by adhering to an eco-friendly production process.

Avid home chefs and those passionate about cooking appreciate the high performance and longevity of Swiss Diamond® cookware. Swiss Diamond® has been dubbed "the Rolls-Royce of nonstick fry pans" by the Wall Street Journal, the "best nonstick cookware" by the leading U.S. consumer ratings organization and is recommended by the Cooking Club of America. Swiss Diamond® is currently available in more than 38 countries worldwide.
Swiss Diamond Links:
Swiss Diamond Videos: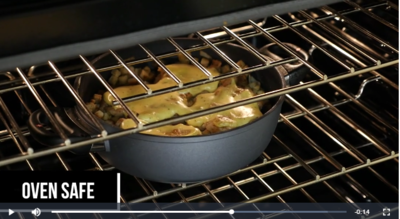 Swiss Diamond Nonstick Casserole Pot Video
Swiss Diamond Product Reviews:
Swiss Diamond Nonstick Casserole Pot Review
Swiss Diamond Chili Cookware Set Review
Swiss Diamond Sauteuse Pan Review
Swiss Diamond 5 Piece Kitchen Tool Set Review
Swiss Diamond Square Casserole with Lid Review
Swiss Diamond Recipes on AllFreeCasseroleRecipes.com:
Summer Herbed Vegetable Frittata with Smoky Goat Cheese
Check out Swiss Diamond's Summer Herbed Vegetable Frittata with Smoky Goat Cheese in this printable free eCookbook, The Best Dinner Recipes, Delicious Desserts & More: 20 Must-Have Recipes.
Your Recently Viewed Recipes