Dessert Mash-Ups Cookbook Review
Dessert Mash-Ups Cookbook Review
Gifted By: Ulysses Press
www.ulyssespress.com
Reviewed by Emily Ramirez, Editor of AllFreeCasseroleRecipes.com

While a batch of chocolate chip cookies is delicious, there are times when that simply won't do. Maybe you're going to a fancy party or a big family gathering and you want to impress everyone with an out-of-this-world dessert. That's how this cookbook, "Dessert Mash-Ups" can come in handy. For times when you want a truly extraordinary dessert to share or if you're just in the mood for something extra indulgent, you'll find it here. Penned by Crazy for Crust blogger, Dorothy Kern, this cookbook is full of tasty treats like you've never seen before.

These desserts are special because they combine all of your favorite sweets together. Like pie, brownies, and Milky Way candy? Now, you can get them all in one place with the Milky Way Brownie Pie. With names like Rocky Road Cookie Fudge Bars, Cookies 'n Cream Magic Bar Pie, and Rainbow Sugar Cookie Pizza, you'll be constantly amazed at the unexpected recipes that you can create.

This cookbook is ideal for novice and veteran bakers alike. There are plenty of easy recipes that fans of casseroles will love, like cookie bars, brownies, pies, cakes, and more. You'll also find information on baking equipment, ingredient tips and substitutions, and food strorage tricks at the front of the book. Most of the recipes included in this cookbook are made for busy moms on the go and bakers who don't want to spend too much time and effort before being able to enjoy a decadent dessert. You'll have no problem following the clear and concise step-by-step instructions.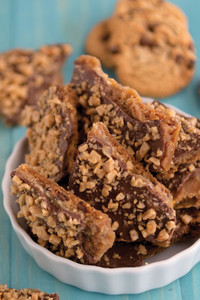 Even before preparing the recipes, your mouth will be watering just looking at the gorgeous, full-color photos that accompany every recipe. One of my biggest pet peeves as an avid cookbook collector is when there aren't photos. If you're like me, you won't have to worry about not having a visual point of comparison. I love seeing what my finished product will (hopefully) turn out like before it's done.

Whatever you make, you'll want to share with everyone you know, especially around the holidays. Baking has practically become synonymous with the holidays and this cookbook embraces it with an entire chapter dedicated to holiday desserts! Give yourself a gift and make one of these incredible treats. You'll never get bored with the immense variety offered. This cookbook is perfect for home cooks, professional chefs, and anyone with a bit of a sweet tooth.

This giveaway has ended.
Get a sneak peek with this full, printable recipe for Chocolate Chip Christmas Crack!
Your Recently Viewed Recipes