14 Peach Cobbler Recipes: Delicious Fruit Desserts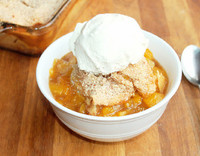 Fruit cobbler recipes are easy and delicious ways to serve fruit for dessert. When the cobbler is fresh out of the oven and topped with a melting scoop of vanilla or cinnamon ice cream, no one can resist! One of the best fruits to use in a cobbler are peaches because their sugars caramelize beautifully and their flavor deepens during the baking process. We've rounded up 14 Peach Cobbler Recipes: Delicious Fruit Desserts for you to try throughout the year. When peaches are in season, make the recipes that use fresh peaches. During the winter, you can still enjoy peach cobbler by using canned peaches. No matter which form of the juicy fruit you use, these cobblers are all wonderful.

These traditional desserts will make you feel like a kid again, but we've got you covered for a grown-up version of the dessert with brandy. We've got peach cobbler recipes that use pie crust or Bisquick as a topping, and some that mimic your favorite celebrity chef recipes. If you're in the mood for something different, you can try a peach cobbler recipe with a spiced or cookie topping. For those sticking to a vegan diet, check out Mama's Peach Cobbler, which uses vegetable shortening and non-dairy milk. When you don't have time to spare in the kitchen, make one of the easy peach cobbler recipes. We promise they still taste like you spent hours perfecting them. These recipes are something kids will love to help you with--you'll all enjoy spending time in the kitchen together, and the final result will taste that much sweeter.

This Southern favorite is simple and comforting. There's just something about the warm, syrupy fruit and the sweet, fluffy topping that makes this dessert irresistible. The main ingredient is fruit, so who says you can't enjoy it for breakfast, too?
14 Peach Cobbler Recipes: Delicious Fruit Desserts

Table of Contents


---
---
---
---
Your Recently Viewed Recipes