Casabella Garlic Slicer Review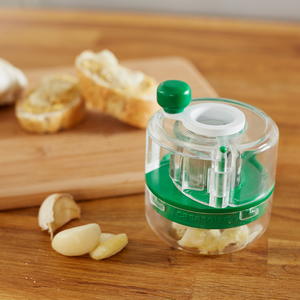 Casabella Garlic Slicer Review
Gifted By: Casabella
casabella.com
Reviewed by Arielle Matlin, Editor, AllFreeCasseroleRecipes.com
The Casabella Garlic Slicer is an incredibly easy to use tool that slices garlic with lightning speed. It requires no pressure on your hands and won't crush garlic cloves. The slicer does just that, making perfect slices with each clove.
Garlic cloves are small and can be hard to handle especially when trying to cut them with a sharp knife. Cutting thin slices can be dangerous and difficult, but you don't need to touch a knife with this Garlic Slicer. Simply feed the whole clove into the top of the slicer and spin the handle as you press on the side of the top. It will produce beautiful and thin slices of the entire clove.
The bottom catches the slices of garlic. I love that it is removable and can be used to store any unused garlic. Each slice of garlic remains intact and perfectly shaped in the large bottom container.
After using the slicer, clean-up is simple. You can give the gadget a light rinse or put it in the top rack of your dishwasher. If you love cooking with garlic, then this is a must-have for your home!
Your Recently Viewed Recipes