Camp Chef Cast Iron Dutch Oven Review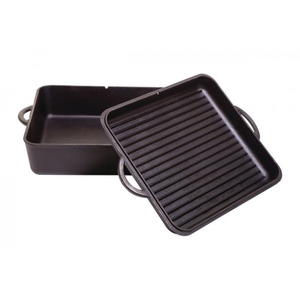 Camp Chef Cast Iron Dutch Oven Review
Gifted By: Camp Chef
www.campchef.com
Reviewed by Arielle Matlin, Editor, AllFreeCasseroleRecipes.com
The Camp Chef Cast Iron Dutch Oven will upgrade your cooking experience while camping and while in your home! This square cast iron pan is great for making casseroles, side dishes, meat, and more. The Dutch oven comes complete with a lid that doubles as a second cooking surface with raised ridges.
This Dutch oven is designed for convenience and versatility. It can be used on a wide variety of heat sources, including on a gril, over an open flame, and even in a traditional oven. There's even a thermometer notch in the lid, so you can check the temperature of the oven without removing the lid. The best part is the pre-seasoned cast iron; once you take the Dutch oven out of the box, you're ready to get started cooking. No further seasoning required.
I love how this oven is completely portable. Even though the oven is a little heavy, the handles on the side make it easier to carry from one place to another. It's perfect for a outdoor cooking, or even a weekend-long camping trip. Of course, you can use the Dutch oven to roast meat and vegetables, but you can also get a little creative. This oven gives a perfectly even bake, which is ideal for cakes and cobblers. My favorite way to use this oven is as a grill. All you have to do is flip the lid over and use the raised ridges as a grill top.
Whether you want to bake bread or grill ribs, this Dutch oven can do the job. It's a great tool for any versatile chef. With this piece of cookware, you'll find you can make a wider range of recipes with less work.
Your Recently Viewed Recipes