Black Cube Nonstick Stainless Steel Casserole Pot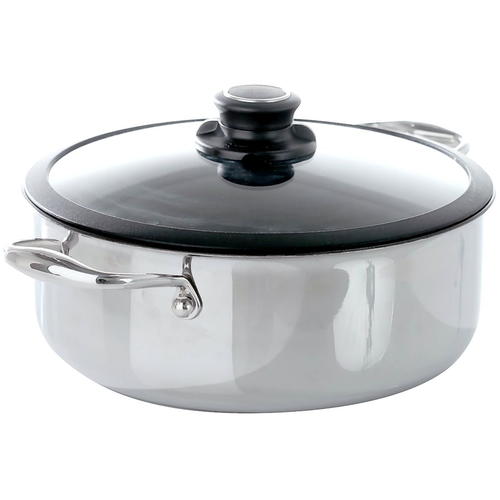 Black Cube Nonstick Stainless Steel Casserole Pot
frieling.com
Reviewed by , Editor, AllFreeCasseroleRecipes.com

The Black Cube Stainless Nonstick Casserole Pot is a unique pan that combines the benefits of stainless steel cookware and nonstick cookware. This innovative design allows food to heat evenly and without sticking to the pan. With a 4 quart capacity, you can use this casserole pan for all kinds of recipes.

 

Frieling's Black Cube line is like no other cookware I have used before. An aluminum core is surrounded by stainless steel creating a durable and even heating pot. The surface of the pot makes it the ultimate cooking pot. A layer of nonstick coating is dotted with stainless steel. This allows you to use metal utensils and benefit from both the nonstick coating and the stainless steel properties. Because the pot is made of stainless steel, it can also be used on an induction cooktop making it incredibly versatile. 

 

The lid on this pot is also one of my favorite components. It has a silicone lined rim that creates a fantastic seal that traps steam in the pot. It also has an easy to use steam vent that allows you to control the amount of steam exiting the pot. This lid is tempered, meaning it is extremely durable and can handle extreme temperatures without shattering.

 

The size of this pot makes it ideal for using to cook all kinds of recipes. The 4 quart size is wonderful for most casserole recipes. I love using it to braise meats, as well as to make sauces and soup recipes. It is a pot that can be used in all kinds of every day cooking. 

 

The pot is oven safe up to 500 degrees F. I love that you can start a recipe on your stove and finish it in the oven. This is especially great when you are making casserole recipes that require browning ground beef or cooking chicken before assembling the casserole. 

 

Not only is cooking with this casserole pot made easy by its construction, but so is clean up. The nonstick surface means food won't stick or cake onto the pot. If you don't feel like hand washing anything after cooking, not to worry, the pot can go right into your dishwasher!
Your Recently Viewed Recipes