WÜSTHOF CLASSIC 7" Ultimate Everyday Knife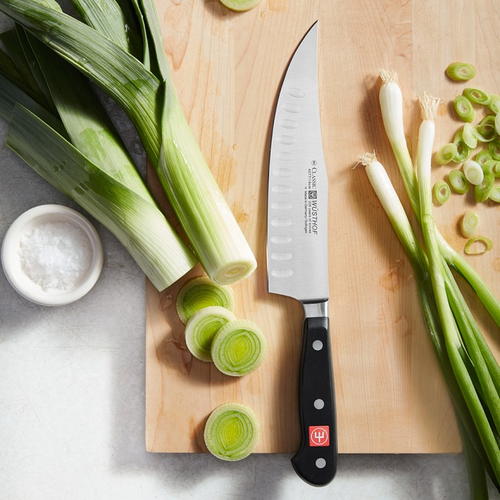 WÜSTHOF CLASSIC 7" Ultimate Everyday Knife
www.wusthof.com
Reviewed by , Editor, AllFreeCasseroleRecipes.com

Ask any cook what form of kitchenware is the most important, and at least one of them will tell you that the everyday knife is pretty essential. I know what you're thinking "It's just a knife, how great can it be?". Well, think again. Finding the perfect knife to cut your ingredients is not an easy task. Lucky for you, I already found one for you.



The Wüsthof Classic 7" Ultimate Everyday Knife, is truly a standout among all kitchen knives. With a sharp 7" blade, sturdy handle and impressive high-carbon steel, this knife can complete any kitchen task. Whether you are dicing, mincing, slicing or chopping, this knife will bring you consistent results. This kitchenware staple can take on hefty ingredients like meat to delicate ingredients like fruit and vegetables.



Versatility is the number one thing I look for in a kitchen knife, and this knife makes that notion look so easy. It perfectly adapts to any task that I need done, and always cuts precisely. This Wüsthof product is also very durable and strong, providing quality that will last a lifetime.



After cooking for long periods of time, cleaning up is the last thing I want to do. Thankfully, cleaning this knife was quite simple and easy! I'll admit I had my doubts, but this kitchen classic didn't let me down. I also appreciate that the knife feels so lightweight even with such a sturdy blade.



A unique element of this knife is the hollow-edge towards the top of the blade. This helps make carving and slicing meat simple and easy, because Wüsthof knows that cutting meat is typically a very difficult and time-consuming task.



This knife truly has thought of everything, and this is reflected in its impressive craftsmanship. If you want your prep time to be cut in half, give this high-quality knife a try.
Your Recently Viewed Recipes