Creamy Chicken And Mushroom With Polenta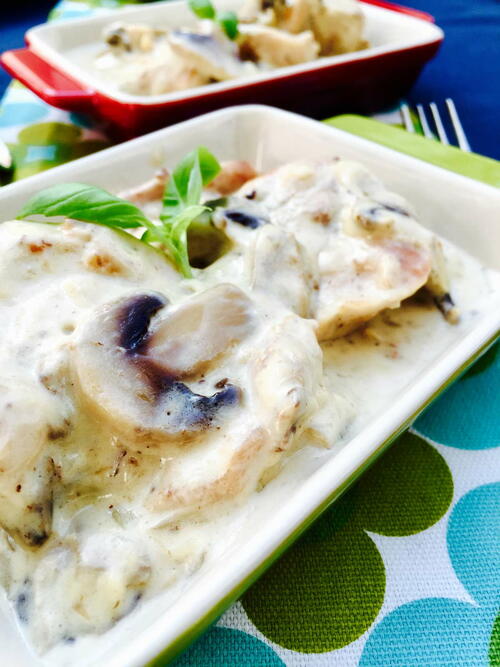 Creamy Chicken And Mushroom With Polenta
"This superb creamy chicken and mushroom dish is rich but it is by far my family's absolute favourite! I am sure you will love it too, so give it a go. I really like to have this with the polenta, I am not quite sure why but it could be because they really do compliment each other or it is because this is how I have always had it. Rich, filling and trully yummy! Very easy to make too. "
Serves4
Ingredients
The dish:▢400 g chicken breast
250 g mushrooms closed cup or chestnut
1 large onion optional
250 ml creme fraiche full fat
100 ml double cream
salt
1 pinch freshy ground pepper
1 tbsp olive oil optional
The polenta:150 g polenta flour
500 ml water
salt
1 pinch thyme or rosemary
pepper
1/2 clove garlic optional
Chop the onion and place it in a cooking pan that is on medium heat. Sprinkle salt and add the chicken along with few drops of water and cover. Cook for about 10 min, occasionally stirring gently. Do not allow it to burn as this will not look good- it is meant to be a white sauce, burning it will change the colour. Add a bit of water from time to time if needed or even a splash of white wine for that extra flavour!

While the chicken cooks, place a pot with the water for the polenta on medium/high heat, add the salt and allow to boil.

Slice the mushrooms and add to the chicken and onion. Cook for 2 minutes, stirring a couple of times.

Stir in the crème fraîche and the double cream and let cook (uncovered) for a further 7-10 min over medium/low heat.

When the water for the polenta is boiling, add the chopped thyme or rosemary and then the polenta flour while stirring gently until it all homogenises. Continue to stir for about 2 minutes and then allow to cook for another 2 minutes. Repeat this 3 times and then take it out onto a plate.

Serve a spoonful or two of polenta along with 3-4 spoonfuls of creamy sauce.
Your Recently Viewed Recipes