23 Low Carb Casseroles
This collection of low carb recipes will give you lots of delicious ways to eat healthier.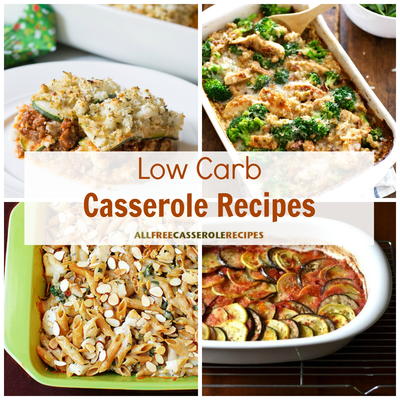 Whether you are on a strict low-carb diet or just want to eat a bit healthier, this collection of 23 Low Carb Casseroles will help you achieve your goal.

When following a low-carb diet, two big things to cut out are bread and pasta. Quinoa is a good substitute for pasta, so you'll find a good handful of recipes for quinoa. Eggplant and zucchini are also great options to use in place of pasta, so you'll find recipes with zucchini and eggplant below.

If you find you just have to include pasta in your diet, whole wheat pasta is the way to go, as it has less carbs than regular pasta. That's why we've included a whole section on this type of noodle. We close with a section of low-carb side dish recipes. Using non-starchy vegetables is the key.

We hope you enjoy these low-carb recipes and find a way to incorporate them into your diet!
Table of Contents
Recipes for Quinoa
Have you jumped on the quinoa craze yet? If not, you should think about it. Quinoa is a great alternative to regular pasta because it has fewer carbohydrates. Whether you're looking for a healthy stuffed peppers recipe or a chicken casserole, you'll find all that and much more below. These other low-carb recipes for quinoa range from Mexican dishes to a power house breakfast casserole. It won't take long for you realize you can do so much with quinoa.
The paleo diet is a great way to cut carbs like grains and white potatoes. It's also a great alternative if you have a dairy allergy. Check out our favorite paleo recipes and learn more about the diet here:
Recipes for Eggplant and Zucchini
Eggplant is a non-starchy vegetable and does not have a lot of carbohydrates, so it's a great ingredient to use in your low-carb recipes. Often times, eggplant can substitute pasta in a lasagna dish. Beef and Eggplant Casserole is great example of that; you may not even miss the pasta! You'll find three other low-carb recipes for eggplant that prove great dinners don't have to include a lot of carbs.
Recipes Using Whole Wheat Pasta
If you find it too difficult to cut out pasta completely (which is totally understandable), then substitute regular pasta with whole wheat pasta. It has fewer carbs, so it is a better alternative to traditional pasta. These recipes in this section include a tuna noodle casserole, macaroni and cheese, and two chicken casserole recipes. Because of the delicious toppings, you may not even notice you're eating whole wheat pasta!
Whole wheat pasta is a guilt-free substitute for regular pasta. If you're looking for more recipes with healthier substitutes, you might enjoy these 17 Guilt-Free Casserole Recipes
Low-Carb Side Dish Recipes
When making a low-carb side dish recipe, remember to use non-starchy vegetables. This includes cauliflower, broccoli, cabbage, kale, rutabaga, and squash, among others. This section of low-carb recipes contains veggies from that list. Some even use two, such as a cauliflower and broccoli casserole and a kale and cabbage bake. Other helpful tips on making low-carb side dishes include cutting out the bread crumb topping or using whole wheat bread crumbs.
Your Recently Viewed Recipes