Cowboy Chicken Casserole
The whole family will love this zesty, Southwestern-inspired casserole!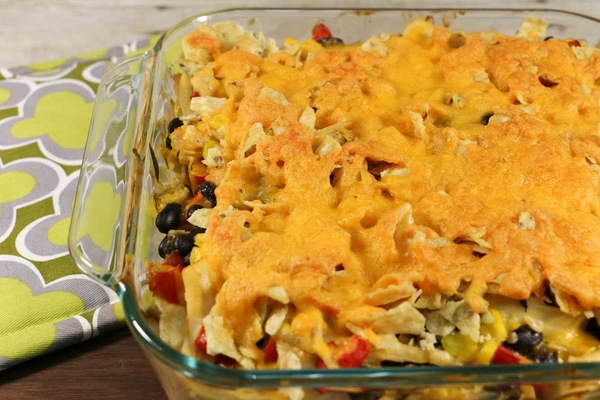 Cowboy Chicken Casserole
This Cowboy Chicken Casserole is definitely one of the better ones out there. Try this easy chicken casserole recipe if you are feeling that craving for Mexican food and a desire to make a casserole.

The best part about this recipe is the crushed tortilla chips. They add a nice, salty crunch to the whole dish. Add that to the cheesy chicken mixture, and you have a dish that is just like a hearty, yummy plate of nachos. Make this Cowboy Chicken Casserole the next time you are craving a comforting chicken casserole.

The best thing about this cowboy casserole recipe is that it can easily be adapted to suit your tastes. You can feel free to add a different type of beans, more peppers, or any other veggies you like. Our version of Cowboy Chicken Casserole is also made by poaching the chicken in a flavorful liquid, but you could easily substitute leftover chicken or turkey that you already have on hand. No matter how you make it, we guarantee that your friends and family will be impressed by this Cowboy Chicken Casserole.
Serves4
Ingredients
2 large boneless, skinless chicken breasts
1 (32-ounce) carton chicken stock
1 teaspoon black peppercorns
1 teaspoon salt
2 (4-ounce) cans diced green chilies

1

/

2

yellow onion, diced
1 red bell pepper, chopped
4 ounces cream cheese

1

/

2

cup frozen corn kernels, thawed
1 (15-ounce) can of reduced sodium black beans, drained and rinsed
2

1

/

2

cups crushed tortilla chips (about half a bag)
1

1

/

4

cup shredded Cheddar cheese
Instructions
Place the chicken in a large pot. Cover the chicken breasts with the stock. Add the salt, peppercorns, and one can of green chilies. Bring the stock up to a boil, reduce to a simmer, cover, and let cook for about 10 to 15 minutes or until the chicken reaches an internal temperature of 165 degrees F. Remove the chicken from the pot and let cool. Once the chicken has cooled, shred the chicken into large pieces. Reserve 1 cup of the cooking liquid.

Preheat the oven to 375 degrees F.

In a large skillet, saute the onion and bell pepper in one tablespoon of oil with a pinch of salt. Cook for 7 to 10 minutes or until the onions are translucent.

Add the reserved cup of cooking liquid and the remaining can of green chilies to the skillet with the onions and bell pepper. Bring the stock to a simmer. Sir in the cream cheese.

Once the cream cheese has melted, remove the pan from the heat. Gently fold in the chicken, corn, and black beans.

Spray an 8 x 8 inch baking dish with cooking spray. Spread 1 cup of crushed tortilla chips in the bottom of the dish. Top with half of the chicken mixture. Top with 1/2 cup of cheese and another 1/2 cup of crushed tortilla chips. Top with the remaining chicken mixture, 1 cup of tortilla chips, and 3/4 cup of cheese.

Bake for 20 minutes or until the cheese is golden brown.
How to Poach Chicken
For easy directions on how to poach chicken breasts, be sure to check out our instructional video below!


Why You Should Make This Casserole Tonight
Sometimes you crave takeout, but you don't feel like venturing out to a restaurant. This easy chicken casserole is the perfect solution for those nights! This flavorful casserole is made with chicken, black beans, and corn for a meal that you can feel good about. If you love the zest of Mexican food, then you won't want to miss this delicious casserole. Loaded with green chilies, red bell pepper, and yellow onion, your taste buds will think they traveled south of the border. However, you can enjoy this amazing Mexican casserole in the comfort of your own home. So pop in a movie and enjoy a hearty serving of this easy chicken casserole!

Our readers absolutely loved this recipe so you will, too! They especially liked the crunchy tortilla chips and the cream cheese in this new take on a taco. Even if your family doesn't usually like Mexican food, there is a good chance that they will love this recipe. It combines the crunch and flavor of a taco with the creamy comfort of a homemade casserole. It truly is the best of both worlds!
Your Recently Viewed Recipes