15 Tuna Noodle Casserole Recipes
Try 15 unique variations on your favorite tuna casserole recipe!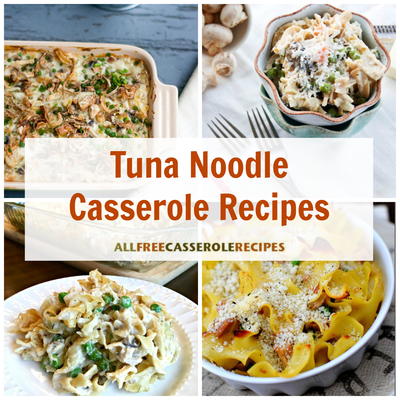 Ah, the tuna casserole. It was a classic dish of the 1950s and is still around today. Why? Because it's a delicious comfort food that's easy to make. Our collection, 15 Tuna Noodle Casserole Recipes, takes the dinner you know and love and adds a new spin.

You could eat a different version of tuna noodle casserole for two weeks straight and not get bored. Well, that may not be true. Two weeks of tuna noodle casserole might get a little redundant. The point, however, is that you can do a lot to a tuna noodle casserole to spruce it up.

Take your pick of tuna noodle casseroles. We have upscale, ritzy, puffy, truffled, and more. To find out what all of that means, take a look at our Tuna Noodle Casseroles with a Twist. We also feature the classic version - four different ways. After all, it's a classic for a reason, so take a gander and see if they're better than your version at home. Finally, we have a few "lighter" recipes for you. They're full of flavor and nutritional bonuses, so don't pass 'em up. After looking at all of these casserole recipes with tuna, you'll want to try them all!
15 Tuna Noodle Casserole Recipes
Table of Contents
Tuna noodle casserole is a classic food just like your mother and grandmother used to make. Get more vintage recipes in this collection of 24 Old Fashioned Casserole Recipes
Your Recently Viewed Recipes