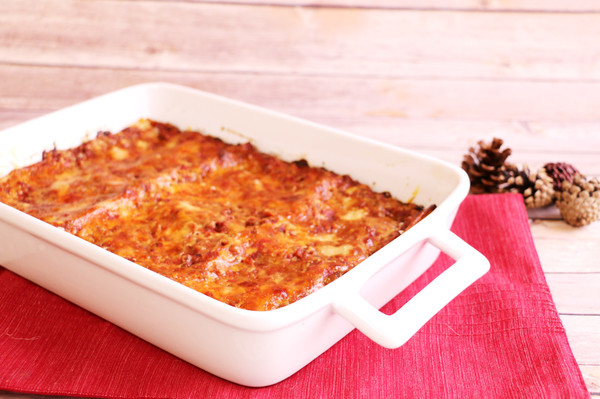 Aunt Gina's Lasagna
Aunt Gina's Lasagna is an authentic recipe for lasagna that's perfect for family dinners, special occasions, holiday get-togethers, and potlucks. It's made with homemade lasagna strips, a zesty marinara sauce, ground beef, and a blend of Italian cheeses. Each component of this lasagna is handmade, just like they used to make it in the old country. While this recipe takes a while to make, it'll be worth the effort once you take a bite. Plus, you really don't need that many ingredients to put this together. If you want a traditional Italian recipe to serve to those special to you, make this baked pasta. Tip: Though everything is handmade in this recipe, you could easily adapt this to use shortcuts if you're in a hurry. Instead of homemade pasta dough, you could use no-boil lasagna sheets that are oven-ready. You could also use jarred marinara sauce instead of making your own. While homemade always tastes better, the alternative is just as good and gets dinner on the table in half the time!
Serves8
Cooking Vessel Size11 x 15 inch baking dish
Ingredients
For the pasta dough:
2 eggs, at room temperature
4 cups unbleached all-purpose flour
4 to 8 ounces tepid water, as needed
For the salsa marinara:
1 (36-ounce) can crushed tomatoes
5 cloves garlic, coarsely chopped

1

/

4

onion, coarsely chopped
Olive oil
Salt, pepper, and red pepper flakes to taste
For the lasagna:
1 pound pasta dough
1 pound ground meat (beef, pork, or mixture)
16 ounces mozzarella, shredded
16 ounces grated cheese (parmigiano and pecorino)
Instructions
Place flour on a wooden board, make a well and break the eggs into it. If you prefer, you can mix it in a bowl with a fork or in an electric mixer with a dough hook.

Slowly incorporate the flour into the eggs. There should be just enough moisture so the ingredients stick together to form a smooth, elastic ball but not enough to stick to the table or bowl. You may need to add a bit of water if the dough is too dry and crumbly, or a bit more flour if too wet and sticky.

Cover the dough with a clean towel and let it set for about 30 minutes.

Use a sharp knife to cut off a chunk from the ball. Flatten the chunk of dough with the heel of your hand then roll it out to the desired thickness with a floured rolling pin.

Saute garlic, onion and red pepper in olive oil. Remove them from the oil before they brown.

Add tomatoes and simmer for about 40 minutes. Stir often to avoid sticking, especially if the pot youre using does not have a heavy bottom.

After 15 minutes add salt and pepper to taste.

After another 30 minutes, check sauce for consistency; if too watery, leave lid off to reduce.

Preheat oven to 350 degrees F.

Brown ground meat in a fry pan then drain off the fat. Place salsa marinara in a sauce pan, stir in browned meat, and heat gently over a medium flame until its hot. Stir occasionally to keep it from sticking.

Meanwhile, roll pasta dough to desired thickness and cut into 2 1/2-inch wide strips.

Spoon hot meat sauce into the bottom of the baking dish.

Place a single layer of lasagna strips into the baking dish, lengthwise. Layer with grated cheese and mozzarella, then top with meat sauce.

Repeat these steps for the second layer but place lasagna strips widthwise. Alternating the direction of the pasta strips will keep your lasagna from falling apart when its cut.

Repeat to make as many layers as you like. Finish by spooning more sauce on top and sprinkle with grated cheese.

Bake for 45 minutes or until sauce and cheese are bubbling. Remove lasagna from the oven and let rest for 30 minutes before serving.
Your Recently Viewed Recipes