14 Slow Cooker Casseroles
Bonus: Get our newsletter & special offers for free. We will not share or sell your email address. View our Privacy Policy

Chobani Yogurts Reviews
By:
Editors of AllFreeCasseroleRecipes.com

AllFreeCasseroleRecipes' staff used Chobani's yogurts in savory and sweet recipes. Check out our Chobani Yogurts Reviews for food reviews on how Chobani's yogurts tasted when used as cooking and baking ingredients. Our editors cooked with Chobani's 16-oz blended Greek yogurts.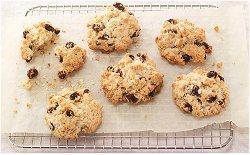 Chobani Recipe: Chocolate Chunk Oatmeal Raisin Cookies (Made with Chobani Vanilla Chocolate Chunk Yogurt Low-fat Yogurt)
"I made Chobani's recipe for Chocolate Chunk Oatmeal Raisin Cookies using Chobani Vanilla Chocolate Chunk Greek Yogurt. The recipe was simple to use and the cookies came out great! The yogurt on its own is delicious, with a vibrant vanilla flavor and chunks of chocolate. I could eat that alone or with fruit and it would be a fabulous dessert or snack. It's creamy and sweet—with a sour kick, due to the Greek yogurt. When used in the cookies, the chunks from the yogurt acted as tasty chocolate chips. These cookies are healthy, made with a high oatmeal-to-flour ratio. They're sweet, but not overpoweringly sweet, as most oatmeal cookies are. The yogurt instantly transformed the batter into a rich, thick texture, great for making into balls for baking. These cookies are surprisingly low in calories. Next time I'm craving an oatmeal cookie, I'll cook up another batch of these."
"While I love to bake, it never occurred to me to incorporate yogurt in my cookies. Chobani Vanilla Chocolate Chunk Yogurt has definitely made me think about it now! The oatmeal cookies I sampled were baked with the yogurt, and they were quite moist and rich and had lovely texture. Time to go pick up some Chobani and get myself baking!"
"I was already a huge fan of Chobani greek yogurt but I had never tried it in a baked good. The Chobani Vanilla Chocolate Chunk Yogurt Oatmeal cookies were incredibly soft and chewy. I found them to be totally delicious. Now that I know how tasty cookies can be with Chobani mixed in, I'll definitely be working it into my dishes and baked goods."
"Who knew that you could get such great-tasting cookies out of a container of yogurt? The oatmeal cookies really benefitted from the addition of Chobani's Vanilla Chocolate Chunk Greek Yogurt. They were much more moist than the average oatmeal cookie which made the cookies taste much more like cookies you'd buy at a bakery than anything I'd normally make at home. The yogurt also gave the cookies a distinct sweetness that set them apart from most other cookies. While I've never baked with yogurt before, I am certainly looking forward to baking with Chobani in the future!"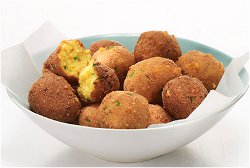 Chobani Recipe: Cheesy Peach Jalapeno Hush Puppies ( Made with Chobani Peach Non fat Blended Fruit Yogurt)
"When I first saw the recipe for Chobani's Peach Jalapeno Hush Puppies I was a little skeptical. When I think about jalapeno hush puppies I don't think of adding peach yogurt to what is supposed to be a mildly spicy appetizer recipe. However, I was pleasantly surprised how the yogurt gave the hush puppies a creamy flavor. And you couldn't even taste the peach yogurt, which was my initial concern. If I could change one thing about the recipe it would be to add a little more yogurt to give the hush puppies more flavor. I also added more cheese and another jalapeno to give it a little more spice. Overall, it was a pleasant experience. I would recommend buying Chobani yogurt, not just to enjoy by itself, but to also put in recipes. It's that good."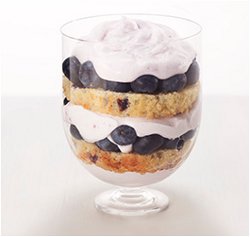 Chobani Recipe: Blueberry Trifle (Made with Chobani Blueberry Non-Fat Blended Fruit Yogurt)
"The Blueberry Trifle made with Chobani's Blueberry Greek Yogurt was delicious! I ate it for breakfast though I think of trifles as a dessert. I felt like I was eating something healthy given the fresh blueberries and blueberry Greek yogurt. A nice break from my usual breakfast bar!"

"I tasted Chobani's Blueberry Greek Yogurt in Chobanis' recipe for a Blueberry Trifle. It was absolutely delicious. The yogurt was creamy and rich, and the inclusion of fresh blueberries brought out the yogurt's bright flavors. Each component, from the heavy cream, crumbled blueberry muffins, blueberries and yogurt, made for a harmonious and delightful dish that would be great for brunch or dessert. The whole dessert is a symphony of blueberry flavor played in perfect harmony. It's not too sweet. It's fresh, light and so yummy. This recipe makes me want to eat Chobani Blueberry Greek Yogurt every day."
"This blueberry trifle made with Chobani yogurt made my morning. I am not exaggerating…the fabulous flavors woke me up and it was just treat I was looking for. Smooth, creamy, fruity; what a winning combination. Now that I've tried a few recipes baked with Chobani, I am a huge fan."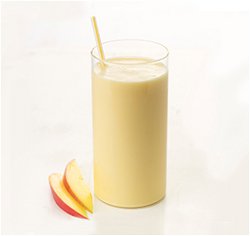 Chobani Recipe: Mango Liquados (Made with Chobani Mango Low-Fat Blended Fruit Yogurt)
"This recipe was super simple and it was absolutely fantastic! As if Chobani's mango yogurt weren't already such a treat--the smoothie is even better! It's both creamy and fresh-tasting. Each sip has a potent mango flavor, but it's not too sweet. The tartness of lime balances the sweet mango for a perfect gulp. This drink would also be great for entertaining--and the addition of booze for grown-ups would be fun too!"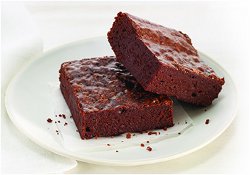 Chobani Recipe: Black Cherry Brownies (Made with *substituted* Chobani Vanilla Chocolate Chunk Low-fat Yogurt)
"What was I thinking not making brownies with Chobani chocolate chunk yogurt? The brownies came out so much richer and softer than any I've ever had before. I'm a convert. Chobani chocolate chunk yogurt for brownies from now on!"
"I've never baked with yogurt before, but after making the brownie recipe from Chobani, I'm a new convert. The chocolate chunk yogurt made the brownies extremely moist and rich-tasting, a texture I couldn't achieve with anything but yogurt. As soon as I took my first bite, I could tell that these were not your average, run-of-the-mill brownies. They tasted much more decadent than the brownies I typically make, and yet they had a lot less calories and fat than my normal ones. Baking with yogurt cuts down on fat and calories, and it's also extremely easy. I'd highly recommend making your next dessert with Chobani yogurt so that you can experience the richly delicious result for yourself!"
"They were okay. Would be much better with nuts. I can tell it is not 'chocolate' chocolate, but yogurt. Still, with nuts and a cup of coffee they would be good."
"These brownies may have been the best brownies I've ever eaten. Ever. They were soft and incredibly moist. They almost had the taste and consistency of chocolate cheesecake or a light chocolate fudge. So so good."
"This brownie was one of the best I have ever tasted. It was dense, moist, and had a fudge-like quality to it. I could not tell they were made from yogurt or were a "healthy" brownie recipe. The only thing I detected was a flavor that reminded me of cheesecake. I give this recipe a two thumbs up."
"I tried brownies made from Chobani's recipe for Black Cherry Brownies. The cook substituted the indicated Chobani Black Cherry Greek Yogurt for the Vanilla Chocolate Chunk Yogurt. The recipe calls for a cup of yogurt, and it really sings in these brownies. The brownies are incredibly moist and have a hint of sour from the yogurt, which plays well off of the rich chocolate chips in the brownies. These brownies are fudgy and dense, but have a light flavor from the yogurt. Chocolate lovers who are watching their weight can indulge in these chocolaty brownies with less guilt. They're low in calories and high in protein—thanks to the use of Chobani yogurt."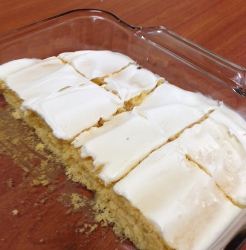 Cake Mix Pineapple Cake (Made with Pineapple Low-fat Blended Fruit Yogurt)
"I enjoyed this cake. It was very moist, which I liked. I could not detect the pineapple flavor of the yogurt, but I believe the yogurt contributed to the cake's texture a great deal. I would make this recipe."
"At my house, we love pretty much anything Chobani, and their Lowfat Pineapple Greek Yogurt is no exception. Both my kids (boys, aged 3 ½ years and nearly 6 years) proclaimed the yogurt 'Good!' and asked for seconds. I also baked a super-simple cake using the yogurt, and it, too, had a warm reception…

6-year-old: Mmm! Yummy cake.
Mommy: If you were going to call Yma and describe this cake to her…remember on the phone she can't see it or smell it or taste it…what would you say?
6-year-old: She would think it would probably be yummy!

3 1/2-year-old: Hey, Mommy. Is the yogurt inside the cake?
Mommy: Yep! If you were going to call Grandma Leen and tell her about this cake, what would you tell her?
3 ½-year-old: Frosting. It's really good.

I agree with them. The cake turned out ridiculously moist, and not overly sweet. It's a much healthier cake option than many, too, since there is no sugar, no added fat, and has all the goodness of probiotics found in Chobani products. The more yogurt I can get into my family's diet, the better, and when it tastes as good as Chobani, it's easy!"
"I tried yellow cake made with Chobani's 2% Pineapple Greek yogurt. The yogurt gave the cake a subtle fruity flavor and made the cake incredibly moist! This yogurt proves you don't need to pack with a dessert with loads of butter and sugar. The cake was made from a sugar free yellow cake mix, 6 ounces of Chobani and water. Yogurt can be a great alternative and allows a dessert, such as cake, to be sweet without being overpowering. Chobani makes it possible to indulge in dessert with less guilt."
"Soft, gooey, delicious…those are just a few of the words I would use to describe this simply tasty cake recipe. The addition of Chobani both lightened up the recipe and added a great texture to the fluffy consistency. For a heavenly treat, you can't go wrong baking with Chobani yogurt. I've long been a fan of Chobani product and I am glad that it's so very versatile, I will definitely try baking with it in the future."
Photos above (except for the Pineapple Cake photo) are courtesy of Chobani.com.
Enter AllFreeCasseroleRecipes Chobani giveaway for your chance to a sampler pack of Chobani's 16-oz blended Greek yogurts!

Free recipes, giveaways, exclusive partner offers, and more straight to your inbox!
Tags / Related Topics
Your Recently Viewed Recipes
Something worth saving?
SAVE all your favorite recipes
ADD personal notes
QUICKLY reference your recipes
Sponsored Content