Smart Planet Electric Heated Lunch Box Review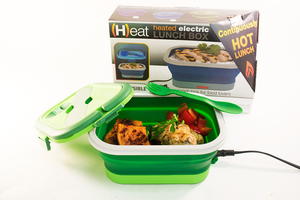 Smart Planet Electric Heated Lunch Box Review
Gifted By: Smart Planet
www.smartplanethome.com
Reviewed by Arielle Matlin, Editor, AllFreeCasseroleRecipes.com
With the Smart Planet Electric Heated Lunch Box, you can store, heat, and eat your food all in one container! The collapsible container can hold a giant lunch, while also housing a condiment compartment and spork. Just plug it in and your food will be ready to eat in no time!
Peering into a refrigerator you would never know that this lunch box is much more than that. The base has a small spot to plug in the cord, but there are no heavy or constraining items that make it bulkier than a regular lunch box or storage container. I like packing my leftovers from dinner directly into my lunch container for the next day so storing the food in this container works great. When not in use the entire container collapses so storage is incredibly simple, too.
Two handles are hidden in the lid of the container. They make carrying the lunch box easy and practical. Also housed in the lid is an all-purpose spork; it even has a serrated edge for cutting food. There is also a small spot for storing your favorite condiment or dressing. This keeps it from getting all over you food and making things soggy.
After plugging in the lunch box, it will start to heat right away. I like to start it about an hour before I want to eat my food. The heating times will definitely depend on what you are warming. A small side dish of pasta will take less time than a lasagna for instance. Since it heats food slowly unlike a microwave, I found the quality of the reheated food to be better than if I had microwaved.
While I love the ability to warm my food at my desk, this function is even more important for other times. Truck drivers will find this a huge convenience and so will you on your next camping trip. It is also nice for dorm rooms and bringing to a hotel. Whether you use the heating component or not, it is a great food container and lunch box!
Your Recently Viewed Recipes