Oxtail And Lamb Neck Soup With Fresh Lovage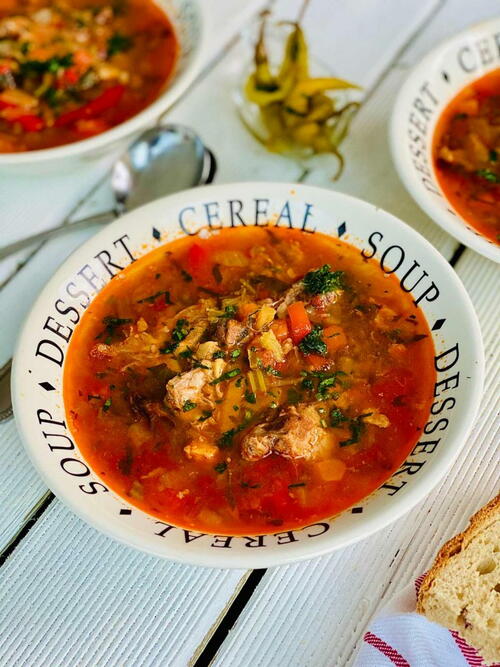 Oxtail And Lamb Neck Soup With Fresh Lovage
"There is a secret to any good soup like this. I will tell you all about it in this recipe. This oxtail and lamb neck soup is a true delicacy. An easy family meal that is delicious served with some nice rustic bread like sourdough, but any crusty bread will do, and do not forget the chillies if you are a spice addict like I am. This flavour rich oxtail and lamb neck soup is the perfect family winter warmer packed with goodness and gorgeous flavours, especially given by the lovage, what an amazing herb! "
NotesTip:
One thing I do if the soup it's for the next day I actually put the cooled soup in the pot was cooked, into the fridge overnight to solidify the oils which rose to the top of the soup and then removed the solidified fat into a plastic bag, using a slotted spoon. It removes all the fat, so here you have an almost fat-free soup too.
Serves6
Cooking MethodPressure Cooker
Ingredients
1.5 litres water or stock (50 floz) beef stock is best but vegetable stock is as good
700g lamb neck (1.5lb) sliced by butchers
700g oxtail (1.5lb) ask the butcher to slice it
2 larger onions finely chopped
2 med carrots diced
1 med parsnip diced
3 sticks celery diced
2 med peppers cored and diced
1 can chopped tomatoes
2 tbsp tomato paste
1 tsp paprika
1 tbsp thyme fresh or dried
3 sprigs lovage fresh or frozen
1/2 tbsp salt kosher or Himalayan
1/2 tsp pepper
Precook the lamb neck and the oxtail together in a pressure cooker for 15 min. If you do not have a pressure cooker, boil in water on medium heat, covered for 40 minutes with some salt.

Place a larger pot on medium heat.

Add the onions as well as the precooked meat. Add a drizzle of water (or oil if you wish- I never add oil when I cook with meat). Sweat the onions for approximately 5 minutes. You can drizzle some of the stock from cooking the meat, this will have some oil at the top which you may gather and add to cook the onions initially. Cover and cook for another 5 minutes. Add some more liquid if required.

While the meat and the onions cook, dice all the remaining vegetables and add all to the onions and the meat. Cook stirring occasionally for 5 minutes.

Add the salt, pepper, paprika, 1/2 tsp thyme and cook for a further 5 minutes stirring occasionally and adding more liquid if required.

Add the tomato paste and the chopped tomatoes and stir in until homogenised. Cook for a further 10 minutes until juices have run out. This step is important if you like a nice deep colour.

Pour in the beef stock left from cooking the meat and stir. Cook on medium fire covered for approximately 20 minutes and a further 10-15 minutes uncovered.

Chop the fresh herbs (lovage ideally but parsley or cilantro will also do if you do not have any lovage) and add it just before turning the heat off.

Serve hot with a nice rustic, crusty sourdough or a French baguette and of course for the chilli addicts like me with some nice fresh or pickled chillies. Mmmm! So delicious!
Your Recently Viewed Recipes