WMF Vitalis Cooking System Review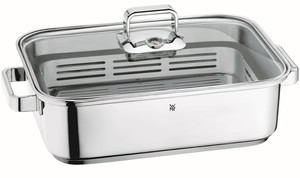 WMF Vitalis Cooking System
Gifted By: WMF
www.wmfamericas.com
Reviewed by Emily Ramirez, Editor of AllFreeCasseroleRecipes.com

The WMF Vitalis Cooking System introduces a new way to cook your food: aroma steaming. While this may seem intimidating, once you taste the difference, you'll never want to go back to conventional methods of cooking. This is the only cookware you'll need to get the best flavors and textures. You won't believe how easy it is!

As a casserole cooker, I like simple and easy recipes that don't take too much preparation before baking. I'll brown meat, chop vegetables, and boil noodles, but that's the most I want to do when I come home from a long day of work. I like to let the oven bake my food and do most of the work for me in producing good flavors.

That's why I was a bit skeptical that this new cookware would be a lot of work. However, it's actually much simpler to use than other specialty cookware I've tried. What makes the Vitalis different than your average steamer is the way that it uses aroma steaming - something new for the home cook. Previously, this was only available to professional chefs, but thanks to this unique cookware from WMF, you can now experience restaurant-quality food in the comfort of your own home.

The way aroma steaming works is quite simple. In order to steam anything, you need to boil water and let the steam cook the food until it's tender. Instead of using normal water to cook your food, you can use meat stock, vegetable stock, or white wine with herbs. Any combination of seasonings and liquid can produce a whole new eating experience for you in the Vitalis because the flavors will be intensified.

What really sets the Vitalis above other cookware is its versatility. It becomes so much more than just a steamer. While you can use this as a traditional steamer by putting meat, fish, or vegetables in the steamer rack, you can also use the roaster without the steamer rack. This vastly increases the amount of foods you can cook in the Vitalis. You can make fresh one-pot meals for a small family. Imagine goulashes, stews, lasagnas, and pot roasts. What you can make in the Vitalis is limited only by your imagination.

Of course, the Vitalis Cooking System is made out of quality materials that we've come to expect from WMF. The durable stainless steel roaster and steaming rack are easy to clean and hold up to everyday use. The material itself perfectly distributes heat for even and thorough cooking on the stovetop. The glass lid even comes equipped with a built-in thermometer so that you can monitor the tempertature of your food.


With form and function, the WMF Vitalis Cooking System has everything going for it. It's so convenient for all of your cooking needs. Whether you want to steam, roast, braise, or bake, this unique cookware can do it all.

This giveaway has ended.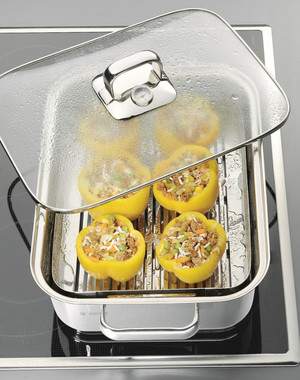 Your Recently Viewed Recipes