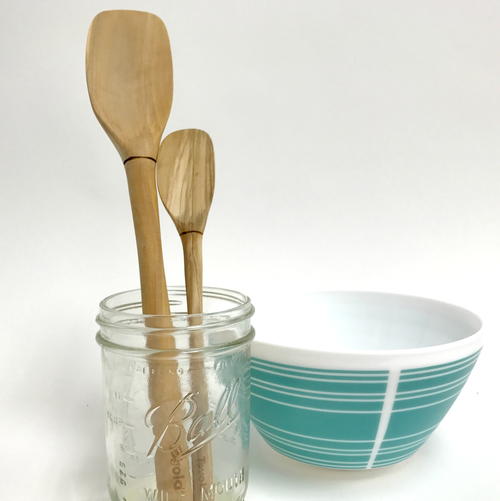 Tovolo Wooden Spoon Set
www.tovolo.com
Reviewed by , Editor, AllFreeCasseroleRecipes.com

Whether you're used to cooking with plastic or silicone spatulas, nothing beats the authenticity of a wooden spoon. The Tovolo Spoonula is one item every chef needs to have when cooking or baking.


The Tovolo Spoonula is not only beautiful with its wooden design, but it's practical too. The offset head with shallow bowl is perfect for all your scooping needs. The angled head ensures your food stays in the spoon when you're scooping up your favorite dishes and the ergonomic handle has a comfortable grip. This tool comes in a regular size and a mini size. The regular is great for larger dishes like serving pasta and salad and the mini one is great for smaller items and stirring. I used the large Spoonula for making Rice Krispie treats and the marshmallows didn't stick right away like my other wooden spoons. The smaller one I used for mixing a single serve of boiling pasta, which was just the right size.


In addition to using the Spoonula as a mixing tool or serving tool, you can also use it over a pot of boiling water to help keep it from spilling over. Each wooden spoon is made from natural wood products and comes in different shades including beechwood, olivewood, and toasted beechwood - each one can bring life into your kitchen.


It's recommended to hand wash the Spoonula to keep its beautiful design looking beautiful and to keep its benefits. It's been known that wooden spoons are better to use than some metal spoons because metal spoons can react with acidic ingredients leaving a metallic taste or even change the color of your food. Wood is non-reactive, so there's a little bit of a benefit. Wooden spoons also don't heat up as quickly as metal spoons and they don't scratch your pots and pans, which is a huge plus. It's also been recommended to oil wooden spoons once a month to keep them looking new. Another amazing benefit of using wood versus another type of material is that wood has a natural germ-killing property, so it'll take longer for germs to grow on wooden utensils.


When looking for a kitchen gadget to mix your ingredients with or to serve a nice dish then you really will enjoy the Tovolo Spoonula; they look beautiful and they're an environmentally responsible choice because they're biodegradable.

Your Recently Viewed Recipes