Pereg Spice Medley Review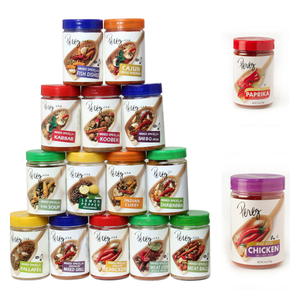 Pereg Spice Medley Review
Gifted By: Pereg Gourmet
www.pereg-spices.com
Reviewed by Arielle Matlin, Editor, AllFreeCasseroleRecipes.com
This medley of Pereg Spices includes some of their most flavorful spices. Their natural spices and spice blends add just the right amount of bold taste to any dish. The mixed spices are all you need to add to chicken, fish, or meat to create a tasty recipe.
The Pereg line of spices has both common and less commonly known spices. They come in shakers that are actually wider than other brands. I like the size because you can fit a measuring spoon in the opening unlike some spice jars.
I had the opportunity to try cooking with the Garlic Powder, Paprika, Mixed Spices for Chicken, and Mixed Spices for Seafood. I cook with garlic almost daily, so I was excited to try the Pereg Garlic Powder. I loved it because the garlic was pungent and really added a fresh garlic flavor to the dishes I used it in. Other brands I have used can have a dull or bland, but the Pereg garlic did not disappoint! I have had a little less experience cooking with paprika, but I do love the taste. Their paprika is a sweet variety with oil. It adds a little kick of spice without being outrageous.
I really enjoyed using the Mixed Spices. The blends are all you need to make a flavorful dinner with chicken or fish. The blend for chicken uses paprika, garlic, salt, and onions, while the seafood blend has cumin and tumeric added to the blend. I especially thought the seafood blend had a unique and delicious flavor.
Pereg spices will transform your cooking. I really enjoy how bold and flavorful the spices are and think they pair perfectly with many recipes.
Your Recently Viewed Recipes