Gourmet Gift Baskets Tour of Italy Gift Basket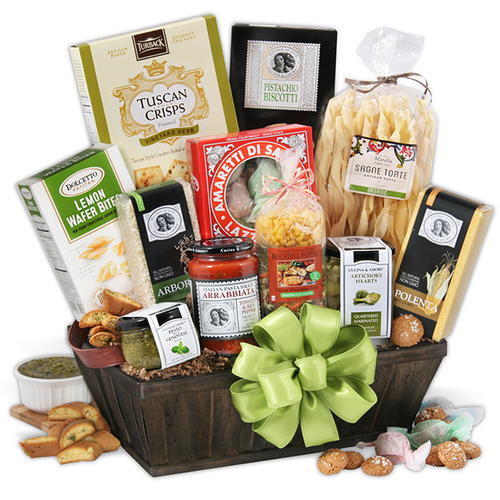 Gourmet Gift Baskets Tour of Italy Gift Basket
GourmetGiftBaskets.com
Reviewed by , Editor, AllFreeCasseroleRecipes.com

The GourmetGiftBaskets.com Tour of Italy Gift Basket is bursting with artisan foods to enjoy. The basket comes filled with all the best Italian specialties, including Arborio rice for making risotto, artichoke hearts for creating a divine appetizer, Chocolate Wafer Bites, and much more. It makes the perfect gift for any occasion!



It is so exciting to unpack this beautful basket when it first arrives at your door. The woven basket is filled to the brim with some of the best and tastiest Italian specialties. I was incredibly impressed with how many items were included with the basket. You can make at least two or three full meals with the items.



There are a few items in the basket that are fabulous to use as appetizers. The Marinated Artichoke Hearts by Cucina & Amore are absolutely delicious served on toast or the Vineyard Herb Tuscan Crisps by Turback.



For dinner, you have a variety of choices. I love the Sagne Torte Organic Artisan Pasta by Morella because it has a handmade look and taste. It works well with either the Arrabbiata Pasta Sauce by Cucina & Amore or the Basil Pesto Alla Genovese by Cucina & Amore. You can also add in the artichokes if you haven't enjoyed them as an appetizer, yet! The Polenta and Arborio Rice from Cucina & Amore can also be made into main courses or side dishes.



I love all the snacks and desserts included with the basket. The Lemon Wafer Bites by Dolcetto are a newfound obsession. I found both the Pistachio Biscotti by Cucina & Amore and Amaretti di Saronno by Lazzaroni to be perfect with a cup of coffee.



If you are looking for a gift that will "wow" then this basket from GourmetfGiftBaskets.com is an ideal choice!
Your Recently Viewed Recipes