Brieftons 5-Blade Spiralizer Review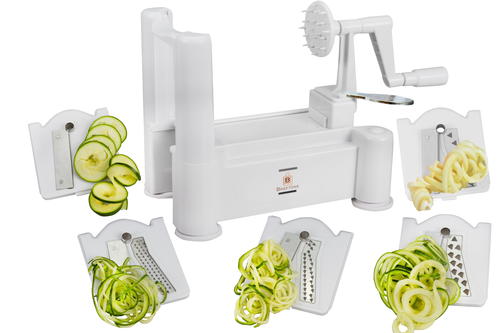 Brieftons 5-Blade Spiralizer Review
www.brieftons.com
Reviewed by , Editor, AllFreeCasseroleRecipes.com

The Brieftons 5-Blade Spiralizer allows you to turn your favorite vegetables into spiralized noodles. This spiralizer has 5 different blades to create different shapes and sizes for various recipes. Eating gluten free "pasta" has never been easier!

 

I have used both handheld and countertop spiralizers before, and find this countertop variety to be much easier to use. This particular model has suction grips that keep the spiralizer attached to the counter even if you are using a lot of force.  It is important for the device to stay in place; otherwise you may have food go flying.

 

Most spiralizers just have two settings, a thin and thicker noodle shape, but this spiralizer includes five different and interchangeable blades. There is an angel-hair blade, a blade for 3mm-wide noodles, a blade for 6mm-wide noodles, a flat blade for ribbon noodles, and a curly-fry blade. Each blade is designed to achieve a different effect and they all work great. When you aren't using a blade, you can store it within the device. 

 

I loved using this spiralizer to make homemade gluten free "pasta". The veggie noodles taste great and you can make all kinds of pasta recipes using them as a base. I also liked using this spiralizer to make curly fries using curly fry blade. Making homemade French fries has never been so simple. 

 

This spiralizer is a wonderful addition to your culinary world. You can make unique gluten free dishes that look and taste great. 
Your Recently Viewed Recipes