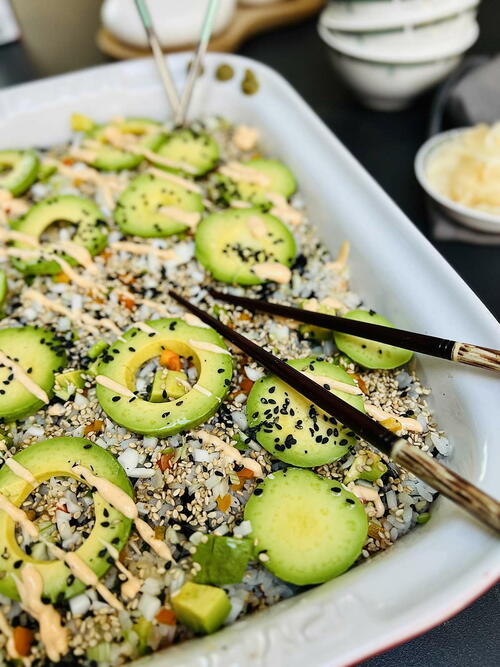 Sushi Bake Recipe
"This easy sushi bake with salmon is kind of a deconstructed sushi roll turned casserole. It can be served warm or cold, is comforting, healthy, and truly easy to make! It is healthy as it hardly contains any mayo, it is cream cheese free, has very little added salt, has no oils added, and has no processed ingredients. Moreover, it is gluten-free and can be egg-free (just leave out the mayo). There are many different ways you can make this superb sushi dish, but my version features baked salmon so it is a salmon sushi bake!"
Serves6 Servings
Ingredients
For the Salmon:600 g salmon (21 oz) fillet or trimmings (weight before cooking)
1 teaspoon five spice powder
¼ teaspoon black pepper
½ teaspoon kosher salt
For the rest of the Sushi Bake:500 g sushi rice (17.6 oz) rinsed well
2 large avocado
8 medium scallions spring onion/green onion
2-3 tablespoons rice seasoning
3 sheets sushi nori
3-4 large pimiento mini peppers any red pepper will work
3 tablespoons sesame seeds I used black and white
1 tablespoon sriracha sauce
2 tablespoons mayonnaise optional
Additional/optional Ingredients: 2 tablespoon low salt soy sauce organic
½ cup pickled ginger I used homemade
½ teaspoon wasabi paste
For the salmon: Preheat the oven to 200℃ or 400℉.

Place the salmon into a tray, season it with salt, pepper, and five-spice powder. Rub the seasoning to uniformly spread it.

Place in the preheated oven and bake at 200℃ or 400℃ for 10-15 min on the upper tray. When it is nice and slightly brown on the outside, take it out of the oven and set it aside.

With a fork, shred or flake the salmon and place it into a separate bowl/plate or keep it in the same tray and just remove the skin.

Cooking the sushi rice: Rinse the rice thoroughly and allow it to rest in a thieve for 15-20 min.

Add the rice to a pan (big enough to allow the rice to boil)* and add 550 ml water. Place on medium fire.

Cover the pan with a lid (ideally a transparent lid) and when the rice reaches boiling point turn the heat right down. Allow it to cook for 9 minutes from the boiling point.

Turn the heat off, and add the seasoned vinegar (try adding it evenly so all rice gets a splash of vinegar). Allow it to rest for 1 min.

With the help of a fork scrape the rice out in a wider pot or plate. Add the rice seasoning and mix until the seasoning gets well and homogenously mixed into the rice.

Make the sushi bake: Start layering the rice in the designated dish. Add one layer of rice topped with salmon, a good sprinkle of sushi nori made into small bits, and a generous one of scallions, peppers, sesame seeds, and avocado.

Add another layer of rice and top with more sesame seeds, scallions, and sliced avocado. Get creative with the toppings.

You may place it back in the oven for 5 minutes or not at all. I normally do not place it back in the oven as I do not see the point. Everything is perfectly good, and ready to be served.
Your Recently Viewed Recipes