Pierogi Casserole with Roasted Garlic and Bacon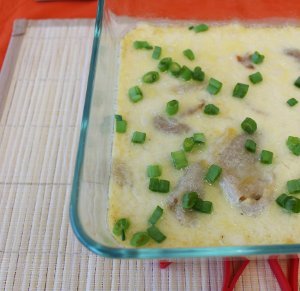 Pierogi Casserole with Roasted Garlic and Bacon
Pierogi are delicious, and they can easily be turned into a casserole. Pierogi Casserole with Roasted Garlic and Bacon is an easy pierogi casserole that is full of comfort. Feel free to use any kind of frozen pierogi, but it's especially good with a meat filling. The roasted garlic and bacon make this dinner extra special. So, the next time you're in the mood for a good pierogi, try your hand at this wonderful casserole.
Ingredients
3 shallots
3 garlic cloves
1 teaspoon olive oil
7 pieces bacon, fried to a crisp, reserve 1 tablespoon bacon fat
2 tablespoons flour
2 cups heavy cream
1 cup shredded Cheddar cheese
1 cup shredded Monterey Jack cheese
2 packages frozen pierogi (filling of your choice)
Instructions
Preheat oven to 350 degrees F.

Place shallots and garlic in a handmade foil pouch and drizzle with olive oil. Roast 20 to 30 minutes or until tender. Remove from foil and chop.

Meanwhile, cook pierogi according to package directions.

In a large saute pan, heat reserved bacon fat over medium heat. Add roasted shallots and garlic. Saute for 1 minute. Add flour and stir for 1 minute. Whisk in heavy cream. Reduce by a third. Stir in cheeses until melted, creamy and thickened. Season to taste with salt and pepper. Remove from heat. Stir in cooked pierogi.

Pour mixture into a 9 x 13 inch baking dish. Bake for 20 to 25 minutes. Let sit for at least five minutes. Top with more chopped green onion (optional).
Your Recently Viewed Recipes