Easy Tater Tot Casserole Recipes: 12 Ways
By: Amy Finn, Editor, AllFreeCasseroleRecipes.com

Updated May 02, 2017
Easy Tater Tot Casserole Recipes: 12 Ways
Don't worry about dinner tonight. Make a super satisfying tater tot casserole!
If you give a kid a tater tot casserole, they are going to want some cheese to go with it. This eCookbook, Easy Tater Tot Casserole Recipes: 12 Ways, is filled with amazing casseroles, both cheesy and not. You'll find all your favorite casseroles in one place. These amazing meals are sure to help you throughout your busy week and will be great to have on hand on the weekends. Forget going for takeout; these awesome recipes will save you time and money when you make them for dinner. While all of these recipes feature tots, they are all very different in their representation of them; no two casseroles are exactly the same.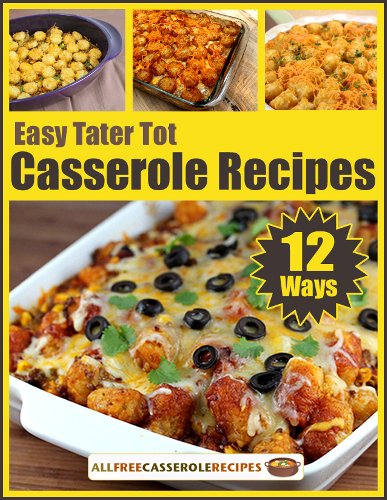 Download your free copy of Easy Tater Tot Casserole Recipes: 12 Ways today!
Easy Tater Tot Casserole Recipes: 12 Ways



Table of Contents
Don't Miss Our Other Free eCookbooks
Note from the Editors
Dear Casserole Cookers,

You don't need to go to a lot of effort to create a budget-friendly, homemade meal. Skip the drive-thru tonight and make an easy tater tot casserole with this free eCookbook, Easy Tater Tot Casserole Recipes: 12 Ways. You'll get 12 different meal options for busy weeknights.

Each recipe included in this collection is the best of the best. Not only are they delicious, but many of them have small ingredients lists, which means they are easy for you to prepare and easy on your wallet, too.

You won't believe how many varieties of tater tot casseroles there are and how satisfying they can be! These aren't side dishes - they are hearty main dishes with ground beef, chicken, and so much more. Try them all with this collection of easy tater tot recipes.

Happy Casserole Cooking!

Sincerely,
The Editors of AllFreeCasseroleRecipes.com
---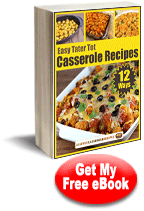 Download your free copy of Easy Tater Tot Casserole Recipes: 12 Ways today!
---
What's Inside the eCookbook
All of these tater tot casseroles are super easy to whip up so don't be afraid of pulling out this eCookbook even on the busiest of nights. For most of these recipes, you just have to dump everything into a dish and then pop the casserole in the oven. Hidden veggies make these dishes nutritious and cheese makes them super tasty. Whether it's for potlucks or dinner parties, you are sure to use these recipes again and again.
Best Tater Tot Recipes
Doggie Tot Casserole (pg.8, pictured) - This casserole features hot dogs as its main ingredient. Kids are sure to be huge fans of this casserole recipe. Doggie Tot Casserole throws in cauliflower and spinach to add some nutrition and make this dinner a bit better for you. You will be so distracted by the tater tots and hot dogs that you may not even notice them (and neither will your kids). This tater tot casserole is cheap, easy, and so tasty. Does it get any better than that?

Budget Friendly Tater Tot Casserole (pg. 10, pictured) - This dish is a perfect example of a great tater tot casserole. Made with just five ingredients, it definitely lives up to its claim of being budget-friendly. This casserole is great for when you need something quick, a meal that has everything all in one. Since this has meet, veggies, and dairy, this amazing recipe will definitely become your go-to dinner when you need something ready in a flash. Your whole family is going to love this meal, and you are going to love how simple the recipe is.
---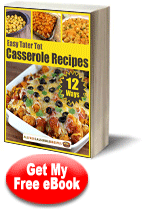 Download your free copy of Easy Tater Tot Casserole Recipes: 12 Ways today!
---
Easy Tater Tot Casseroles
Cowboy Tater Tot Casserole (pg. 9, pictured) - This casserole takes the spirit of the Wild West and embodies it in ground beef, cheese, and tots. It's got everything you love - tater tots, ground beef, corn, and cheese. It may not be the prettiest meal you ever make, but don't let that stop you. It doesn't matter how it looks, only how it tastes and this tastes delicious. You'd miss out on a wonderful, filling dinner fit for the whole family if you judged this casserole by its look. Be sure to hide the leftovers if you want them; everyone is sure to fight over them.

Twisted Tater Tot Casserole (pg. 11, pictured) - You've never had a tater tot casserole like this before. This amazingly easy casserole recipe is made a little differently from your regular casserole. Instead of letting everything sit and cook, you stir this one about halfway through the cooking process so the meat is broken into chunks, giving you a hearty and filling dish. This one is sure to become a new family favorite because who doesn't like a cheesy, twisted mess of a casserole? We guarantee that after one bite, you will be singing this meal's dinner.
---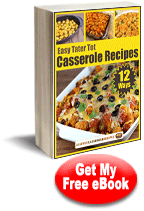 Download your free copy of Easy Tater Tot Casserole Recipes: 12 Ways today!
---
Cheesy Tater Tot Casseroles
Taco Tater Tot Bake Recipe (pg. 15, pictured) - Make this recipe for a delicious way to spice up your taco night. Instead of the usual burritos and fajitas and tortillas, try this amazing tater tot casserole. This recipe combines tater tots to traditional Mexican ingredients - taco-flavored ground beef, black beans, green chilies, and enchilada sauce. The result is a colorful, flavorful, main dish casserole that will put a smile on the faces of both children and adults.

Crunchy Tater Tot Casserole (pg. 16, pictured) - This casserole is the perfect way to feed your inner cheese-lover; this one is sure to be hubby's favorite, too. This awesome casserole recipe is super cheesy and creamy. Topped with crunchy chips, this recipe will leave everyone wanting more. Perfect for holiday gatherings and potlucks, this cheesy tater tot casserole is a one-of-a-kind. And it is super easy to make. Just take all the ingredients out of your freezer, mix them together, bake, and enjoy.
---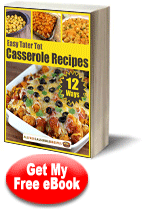 Download your free copy of Easy Tater Tot Casserole Recipes: 12 Ways today!
---
Need Help Downloading?
AllFreeCasseroleRecipes eCookbooks are free downloadable recipe collections organized around a theme, such as easy casserole recipes, vegetable side dishes, and many more. These eCookbooks are PDF documents that can be downloaded off of our website, saved to your computer, and/or printed out for easy reference while cooking. If you are having trouble downloading our free eCookbooks, visit our FAQ Page: How to Download our eCookbooks.

---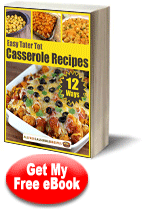 Download your free copy of the Easy Tater Tot Casserole Recipes: 12 Ways today!

---
Don't Miss Our Other eCookbooks!
If you enjoyed this free eCookbook, you won't want to miss any of our other downloadable recipe collections. You can browse our entire library of free eCookbooks here.
Sign Up for Our Newsletter
With your free copy of our Easy Tater Tot Casserole Recipes: 12 Ways eCookbook you can also subscribe to our newsletter The Casserole Connection to become part of the wonderful community of fellow casserole enthusiasts. By subscribing to the newsletter, you will receive:
Weekly emails with casserole recipes, tips, collection pages and more.
Chances to win cooking books and products from our weekly giveaways and contests.
New FREE recipes made available to you throughout the year.
Access to our free recipe library full of hundreds more free recipes.
The opportunity to share ideas and help others in the cooking community.
---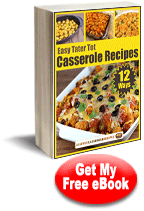 Download your free copy of Easy Tater Tot Casserole Recipes: 12 Ways today!
---
This sneak peek of what this new eCookbook has in store for you hopefully has convinced you to download it free today. If any or all of these recipes appeal to you, click on one of the eCookbook icons anywhere on this page to download your free copy of Easy Tater Tot Casserole Recipes: 12 Ways. You won't regret downloading this free eCookbook and printing its delicious recipes! Once you get your copy, you can either keep it on your computer or eReader, or print it out and keep it in your kitchen. No matter how you use your eCookbook, once you've tried even one of the recipes, you'll be glad you downloaded it.
What is your favorite way to cook with tater tots?
Tags / Related Topics
Your Recently Viewed Recipes
Images from other cooks

Love these recipes? Get MORE delivered to your Inbox – FREE Click Here!