Delicious Duck on Soba Buckwheat Noodles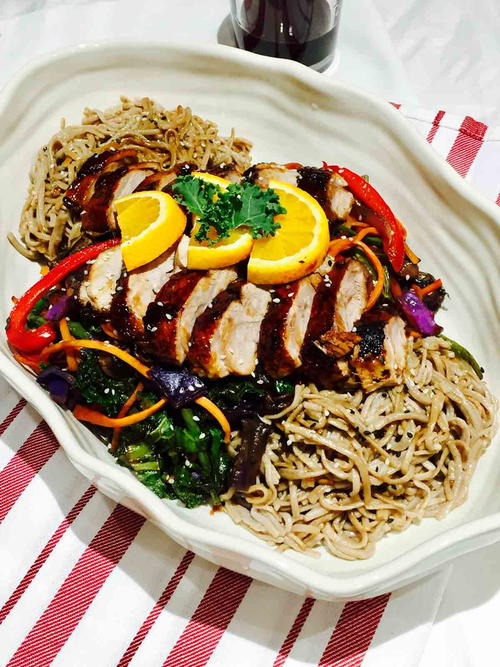 Delicious Duck on Soba Buckwheat Noodles
"Duck is one of the meats that takes me to a different dimension and I have to say every time I decide we are having duck, there is a fair amount of cheer in my household. Yes, you've guessed – we do love ?? duck! There is duck and there is this dish. Omg! I almost cannot speak, it was that good! Pure delizioso!! I really like Asian food, the spices, the flavours, the colours… I simply can't resist it ever."
NotesSoba noodles, waww! I am sooo in love with those and I'm proper hooked to at the moment.
A white plate of delicious duck in buckwheat noodles, topped up with lemon slices and kale leaves.
The variety of these noodles today is purely overwhelming - I always end up buying several packets of all sorts. They are amazing and if you have not had them before - give them a try - you will get hooked for certain. The good thing is that you will be hooked to something healthy which is a bonus ;))
I have put a mark on the duck breats that should have the skin on. Of course they must have the skin on. If you choose to indulge yourself, go all the way and I am not sure how you feel but for chicken, yes, I always remove the skin but for duck, NEVER! It is the best thing ever!
Serves4
Ingredients
4 duck breasts skin on please *
200 g soba noodles
300 g kale leaves
100 g green beans
2 carrots (shredded)
2 red peppers (cut julienne)
2 onions (cut julienne)
2 slices ginger (shredded)
2 cloves garlic
4 tbsp soya sauce
Instruction
Half the orange and juice one half, leave the other half for garnishing.

Prepare a marinade for the duck breasts by mixing the soya sauces (both), Worcester sauce and the sweet chilli, chopped ginger, 2/3 of the orange juice and the crushed n' chopped garlic. Mix all of these and make a nice marinade.

Place the duck breasts on a deeper plate or a larger bowl. Pour the marinade over set aside and don't forget to toss from time to time so the breasts marinade nicely.

Meanwhile, peel, wash and spread/chop vegetables as you wish but I normally cut the pepper and onion julienne and shred the carrots with a special shredder I normally use this (...) which makes it a lot easier than having to cut this into this thin strips.

Cook the duck thoroughly on both sides for about 20 min on medium fire turning them every now and again. Start by placing the breasts skin down. In the last 2 minutes of cooking add the marinade and the extra orange juice. Keep an eye on this as the sauce may caramelise and burn very quickly. Just remove from heat as soon as the sauce starts to reduce down. We need some to garnish the dish so do not reduce it too much. Add some honey now if you want it slightly sweeter but to my liking this is just perfect so I would not.

While the duck meat is cooking start cooking the stir fry. Start by adding a nibble of coconut oil into the deep frying pan and add the green beans, red onion and the red cabbage. Cook for 5-7 minutes tossing occasionally. Then add the pepper, kale and the shredded carrots. Cook for a further 3-5 min tossing every now and again. I like my veggies nice and crunchy.

Meanwhile place a pot with some water in and cook the soba noodles according to pack instructions. Those cook fairly quick (few minutes) so leave those to cook at the end. Just be very careful not to overcook them as they will (like any pasta) no longer be nice. Al dente is the way to go and nothing else. ??

Drain the noodles off any water and place on the serving plate over which you place the veggies and the meat along with any juices.
Your Recently Viewed Recipes