12 Casserole Recipes for Baked Sandwiches
These sandwich casseroles are the perfect way to serve a crowd at a party or a potluck!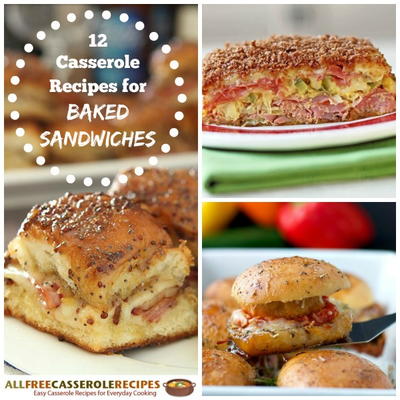 When you think of sandwiches, casseroles are probably the last thing on your mind. However, these easy recipes combine the portability of a sandwich with the convenience of a casserole. We have assembled this collection of 12 Casserole Recipes for Baked Sandwiches to give you the best of both worlds.

These easy baked sandwiches are perfect for parties because they are easy to serve and are already divided into individual servings. For an easy recipe for lunch, dinner, a snack, or a party appetizer, look no further than these easy recipes for baked sandwiches. We have included recipes for baked sliders, other baked sandwiches, and even casseroles inspired by sandwiches for your cooking pleasure.

If you are a sandwich lover, this collection will give you lots of new recipes to try. Even if you aren't the biggest fan of sandwiches, baked sandwiches are not your typical sandwich-- they taste even more delicious because they are baked! Whether you like ham and cheese sliders, meatball sub sandwiches, or even Reuben sandwiches, you are sure to find something you love in this collection.

BONUS! For more recipe inspiration, check out the video below for Cheesy Roast Beef Sliders from our friends at RecipeLion!
Table of Contents
Recipes for Baked Sliders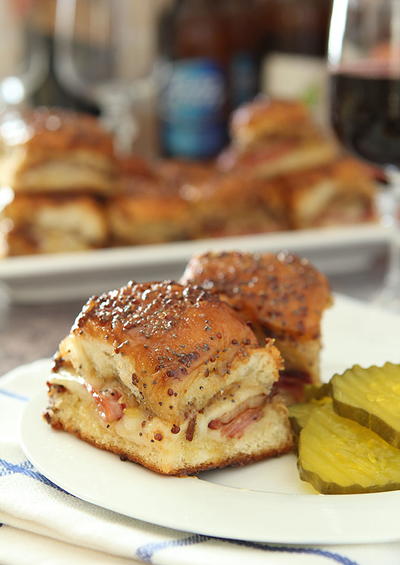 Baked sliders are an even more delicious of typical sliders. If you enjoy these miniature sandwiches, you are sure to love them when they are baked. Sometimes known as funeral sandwiches, these easy slider recipes are meant to be shared at a potluck. We've included recipes with ham, bacon, beef, and chicken so there is something for every taste.

If you like recipes with ham, you should try Funeral Sandwich Casserole, Hot Ham and Cheese Sliders, or Bacon, Ham, and Cheese Slider Casserole. Beef and Blue Cheese Sliders are loaded with shredded beef, mozzarella cheese, and bleu cheese, so if you love beef you can't miss this recipe. If you're a fan of the Italian classic, Chicken Parmesan, try Chicken Parmesan Sliders Casserole for a simplified version of the classic recipe.
Other Recipes for Baked Sandwiches
For an exciting new take on classic sandwich recipes, look no further than these additional baked sandwich recipes. If you like Italian food, you are sure to love Ground Beef Sandwich Casserole because it features spaghetti sauce and Parmesan cheese. Everyone is sure to love this Italian-inspired baked sandwich recipe. The recipe for Baked Ham and Cheese Sammies is simple, but the resulting meal is simply amazing. Buttery garlic bread, ham, and two kinds of cheese make this recipe for baked sandwiches truly amazing.
Casserole Recipes Inspired by Sandwiches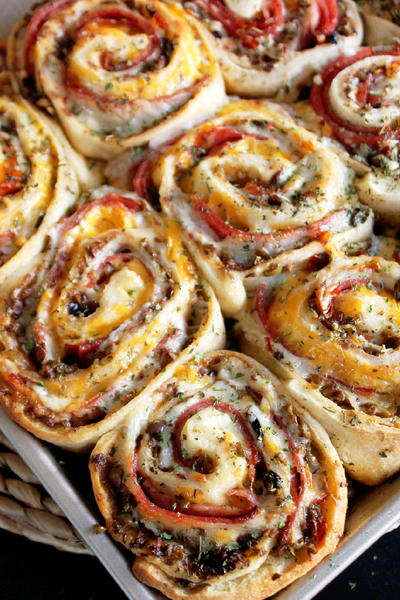 These casseroles throw tradition out the window! These easy casserole recipes take the flavors of your favorite sandwiches and make them into a casserole.

Baked Reuben Casserole is the classic Irish sandwich you can eat with a fork. Grilled Cheese Sandwich Casserole might sound strange, but it's actually a classier version of the kid classic. Melted cheese, cubed bread, sliced tomatoes, and a cream sauce make up this inventive recipe. You can't go wrong with a classic like Meatball Sub Casserole, so it's sure to hit the spot. Decontructed Croque Madame is the casserole version of a French ham and cheese sandwich. Lastly, Muffuletta Pizza Casserole combines the classic Muffuletta sandwich with pizza rolls. These sandwich-inspired casseroles are sure to hit the spot!
Your Recently Viewed Recipes